Client:


Kategorie: Switch room, CRITIS.
New control center controls and monitors wind turbines worldwide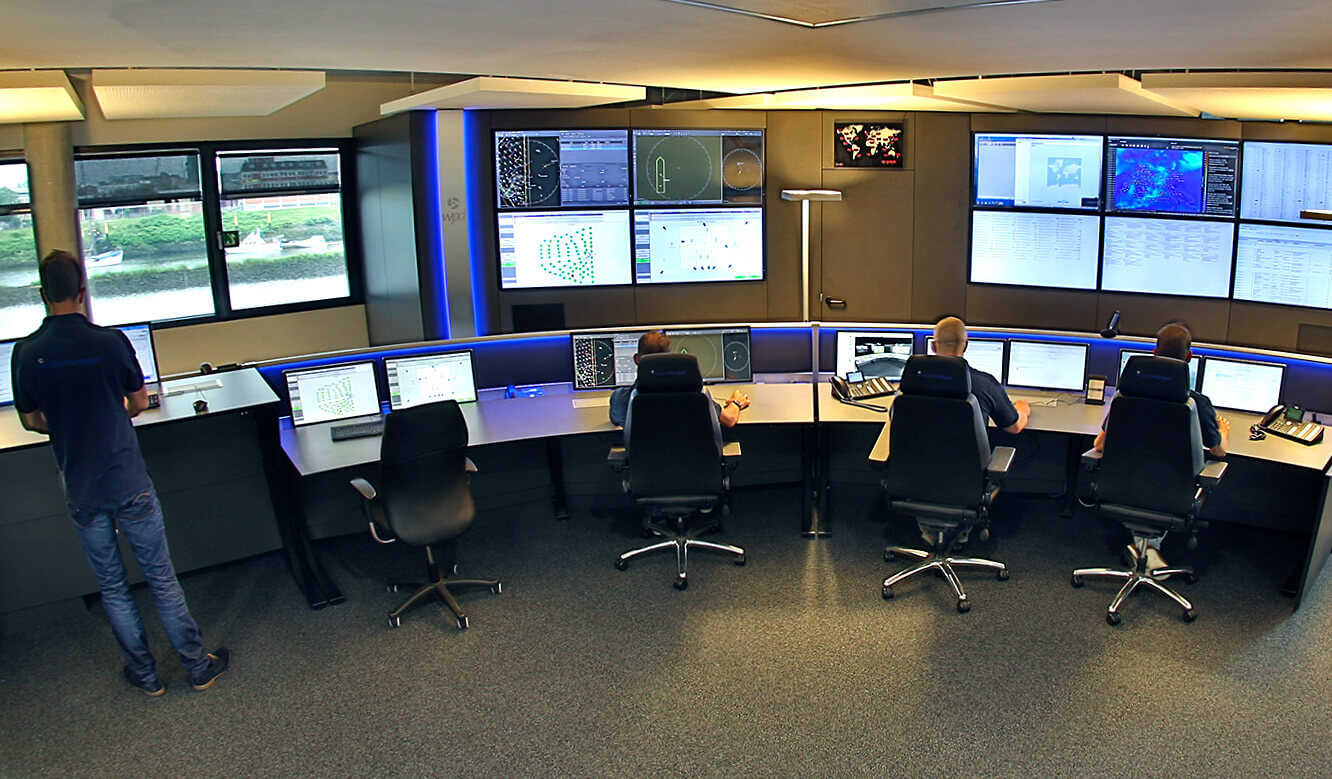 JST control room: Perfect design paired with trend-setting technology - the new control center at the Bremen headquarters of wpd Windmanager GmbH & Co. KG benefits from a carefully thought-out room concept, functional planning and proactive visualisation of the various systems.
Whether weather data on a world map, detailed electrical circuit diagrams or various camera displays – with the new JST video wall the employees of the Bremen control center of wpd windmanager Windenergieanlagen have a close eye on wind turbines around the globe. As a specialist in the field of commercial and technical management of onshore and offshore wind farms, the company has moved into completely new headquarters in Bremen, which also houses the control center and first level support with new equipment from JST – Jungmann Systemtechnik.
With a constantly increasing number of turbines to be monitored, the number of employees at wpd windmanager has grown steadily in recent years – reason enough to commission a completely new control center as part of the new headquarters building. Marc Rosenkranz, responsible for the management of the control center and first level: "Jungmann was our first choice in the search for a suitable partner for this project". The company had already had positive experiences with various JST products in the past. "The cooperation has proven itself," says Marc Rosenkranz. A workshop in the control room simulator, during which a first virtual tour through the new control center was already realised, finally tipped the scales for further cooperation.
A total of 2,550 wind turbines worldwide are currently monitored from Bremen. Proactive large display walls from the JST portfolio and the JST PixelDetection® fault detection software to shorten reaction times keep the 14 dispatchers in the control center permanently informed. Status messages and warnings are detected as quickly as possible in this way, the operator can react without delay and, if necessary, contact the responsible service company. Marc Rosenkranz particularly emphasises the high-resolution representation of camera surveillance.
Using JST MultiConsoling®, a concept for controlling all workstation computers and the large-screen system, with the myGUI® graphical user interface, administrators can also conveniently display current events on the large display wall as BigPicture, or exchange screen contents from workstation to workstation. "This way we always keep the overview despite many different details", summarises the team around Marc Rosenkranz.
The technical equipment is complemented by high-quality ergonomic control center furniture from the Stratos X11 range and a special Recaro operator chair. The infinitely variable electromotive height adjustment of the Stratos OperatorDesks receives special praise from the wpd windmanager staff. Marc Rosenkranz: "The new jobs are very well received here in the control center. His conclusion: "The cooperation went perfectly – JST has adapted perfectly to all our wishes".
About wpd windmanager
As Germany's leading and internationally expanding company in the commercial and technical management of wind farms and solar projects, wpd windmanager GmbH & Co. KG has 423 employees. Worldwide, wpd windmanager manages 528 wind farms with 2,550 wind turbines, 108 solar farms and a total output of 5,631 megawatts. For more than 20 years, fund companies and national and international investor groups have relied on the company's know-how. In addition to the core market in Germany, wpd windmanager is active in various other European countries, in South America and also in Asia. The company is growing continuously: in 2020 alone, additional German locations were added in Erkelenz and Bremerhaven, as well as in Spain, Sweden and Chile. Since 2020, wpd windmanager has been certified according to DIN EN ISO 9001.