Client:


Kategorie: Switch room.
Technically and optically modernised: the MonitoringService and Tech-Center of Senvion SE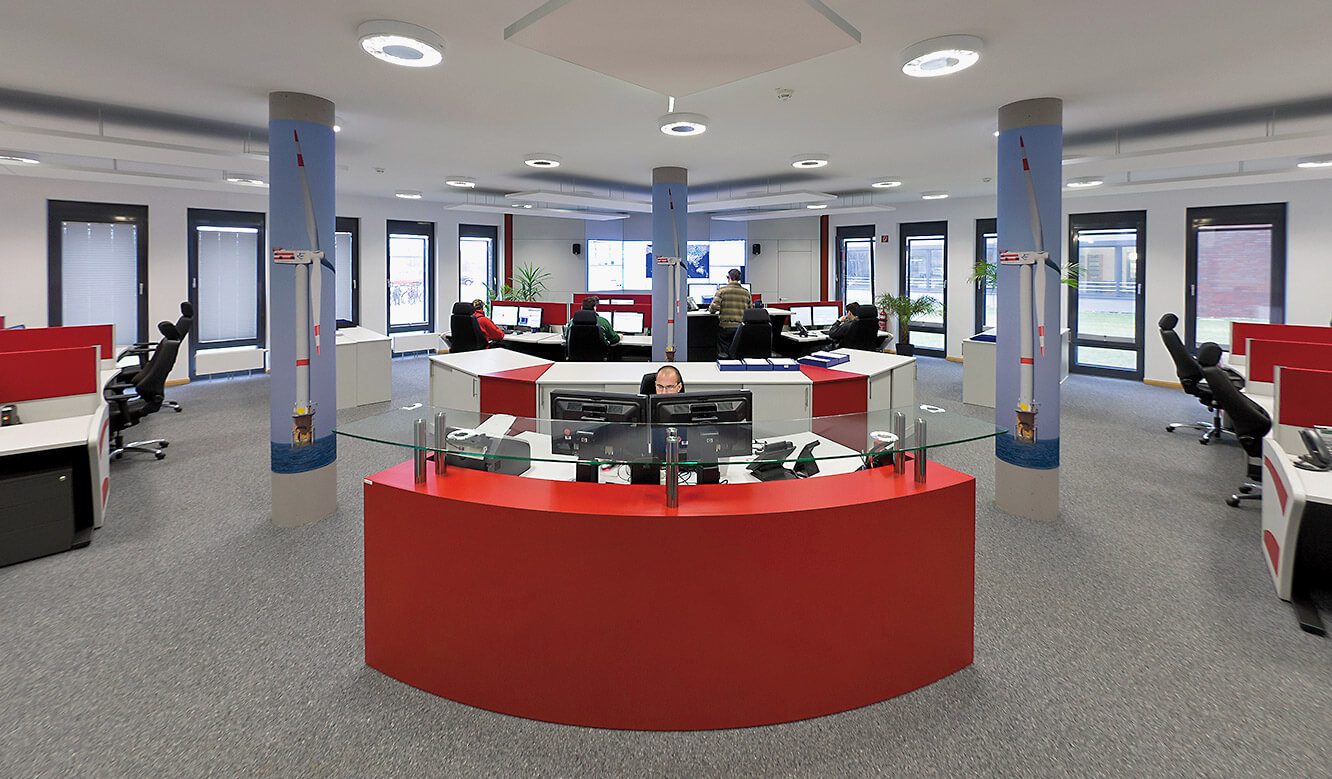 Gains recognition among visitor groups from home and abroad: the new Senvion headquarters in Osterrönfeld.
Senvion SE", a company of the "Suzlon" Group, is one of the world's leading manufacturers of onshore and offshore wind turbines. The internationally active engineering company develops, produces and sells wind turbines for almost any location – with rated outputs of 1.8 to 6.15 megawatts and rotor diameters of 82 to 126 metres.
In addition, "Senvion" offers its customers project-specific solutions in the areas of plant construction, service and maintenance, transport and installation, and foundation design.
With around 2,700 employees worldwide, "Senvion" can draw on the experience gained from the production and installation of around 3,600 wind turbines.
A fully equipped control room – from the reception desk to the "invisible technology" behind the scenes. Creativity and technical know-how were demanded by Jungmann Systemtechnik during the redesign of the "Senvion" headquarters in Osterrönfeld. Even unusual wishes regarding special design accents were creatively implemented by the JST team.
As the export rate of the company is now around 70 percent, international visitor groups are part of the day-to-day business at the PMS (Permanent Monitoring Service) premises. Thus, the representative character of the premises played an essential role in the extensive building measures. According to "Senvion" team leader Simon Hillmann: "We receive consistently positive feedback from visitors from Germany and abroad for the professional optical and technical equipment of the control center".
Senvion SE: Control room after modernisation / before modernisation
The "Permanent Monitoring Service" monitors around 3,000 wind turbines around the clock. If the sensors there report an error, this becomes immediately visible on the large display wall. The employees can react immediately and classify the error messages in the control center. Since the "Senvion" systems are almost completely remote-controllable, around 80 percent of incoming alarms can be resolved from the control center in a very short time.
The employees of the hotline area have their workplaces in close proximity to the display wall. But also the staff of the first and second level profits from the technical possibilities of the display wall. Even from the background workstations, the employees have an overview of all processes – thanks to the open room design, communication with the dispatchers of the hotline area, who are placed directly in front of the large display wall, is no problem.