Monitor walls and display walls with seamless 24/7 LC displays and alarm function
JST DisplayWalls are the big players in your control room. They are event-controlled, this means that computers and cameras can be automatically switched on and operated in real time without the operator having to intervene. The operator refers to this as "TeamView" because now the entire team has the same level of knowledge about the most important alarms.
REQUEST A QUOTATION
JST DisplayWalls: Important advantages and possible designs
Quality: Designed for 24/7 operation in control rooms
Proactive:  Interfaces for event-controlled alarming with PixelDetection®
Well laid out:  Identifying causes and making decisions through "TeamView"
Operation: In real-time with keyboard & mouse, directly on the monitor wall
Event control: Computers and cameras are connected fully automatically in case of alarms
Six good reasons to choose JST DisplayWalls:
A DisplayWall consists of several large LC displays or rear-projection cubes that are installed on top of each other and side by side. This creates a large and coherent image.
01
Detailed representation
Relationships between different alarms are quickly and clearly recognized due to the large display area, large vertical and horizontal viewing angle, perfect illumination by energy-saving LED backlight and high pixel resolution.
02
Longevity
JST DisplayWalls are specially designed for 24/7 continuous operation in control rooms. These are explicitly not televisions that are used in the private sector.
03
Fast cause and decision finding through "TeamView
The entire control room team receives the most important information simultaneously. TeamView can even be operated simultaneously or alternately and in real-time directly on the DisplayWall. It becomes a real extension of the workstation desktop. Faster reaction and interference suppression through noticeably improved teamwork.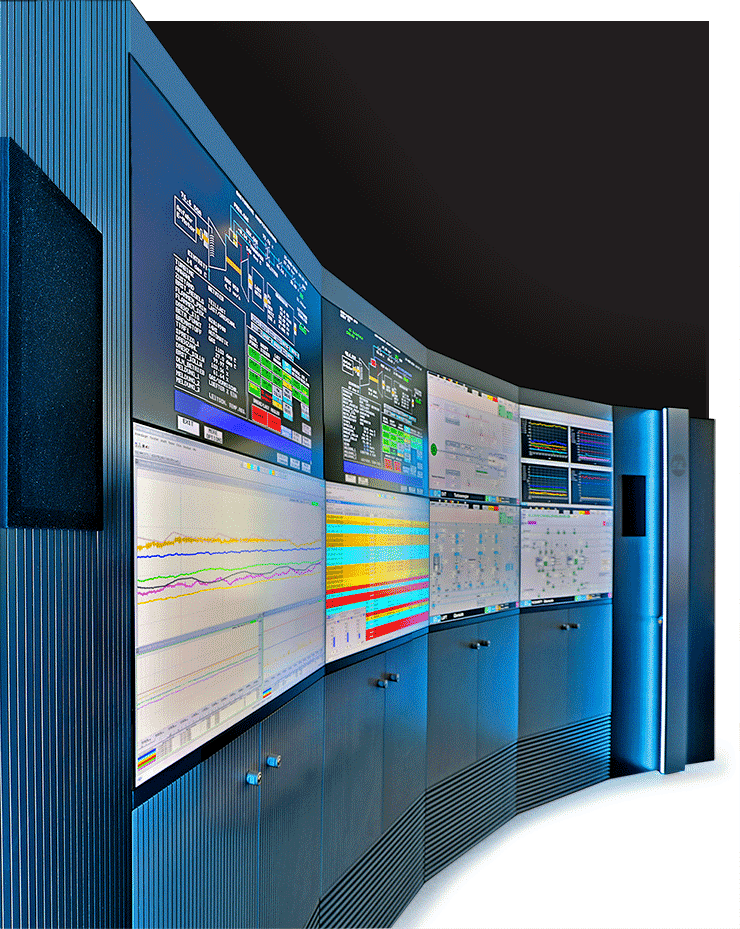 Example: DisplayCover with QuickOut mounting system and AlarmLight in the InfraLeuna central control room
JST Large screen wall paneling: In the InfraLeuna central control room, the cladding of the large screen wall – here equipped with eight 46-inch displays with extra-slim frames – not only reduces the noise level in the control room but also offers additional storage space thanks to the multifunctional equipment with hinged doors.
Perfect service accessibility – even for displays located in the middle of a video wall – the JST QuickOut mounting system. By slightly pressing the outer edges of the display, each individual display slides forward (quick-out) to provide access to rear connections and technical components in case of inspection.
04
Clear, structured, tidy
By combining the most varied system, plant and hazard states, more efficient monitoring and control is made possible. There is no need for many workstation monitors. The operator always keeps the overview.
05
JST DisplayWalls have interfaces for event-controlled alarming!
This means: Display of the most important alarms, at the required time, at the right place and in the optimal size. Only in this way does the DisplayWall become a secure information hub where no alarm remains undetected.
06
More decision safety
In order to be able to act even faster and always in a coordinated manner, additional information is added to the alarms automatically and depending on the situation. A correlation of different alarms is also possible in a variety of ways. Only JST offers this special intelligence.
DisplaySuit
The DisplaySuit: functional, perfect in design and unique in workmanship. The available equipment variants not only provide a visual highlight in your control room. The combination with the QuickOut mounting system also sets standards in practical terms. Even maintenance during operation is no problem.
The DisplaySuit is available in three versions:
JST DisplayCover
The JST DisplayCover offers a visually particularly attractive variant for large screen technology concepts in the control room. In this room-in-room construction, the functional JST DisplayRacks serve as the basis for a solution that is both application and design oriented.
The JST DisplayCover combines a whole range of essential functions for your control room in addition to its convincing appearance: Disturbing fan noises are kept away from the control station as well as unwanted heat emissions. In addition, the hardware located in the newly created technology room can not only be installed in perfectly fitting racks, but also optimally cooled. Even access in case of maintenance does not influence what happens in the control room. The DisplayCover offers the possibility of cladding with special acoustic material as well as space for cabinet systems with different door variants and drawers.
JST DisplayRack
You do not have a solid wall available for mounting your large screen displays? Or would you like to remain flexible in the future when choosing your display sizes? Then the free-standing JST DisplayRacks are the right choice for you. The so-called basic unit – consisting of two side parts – can be extended with any number of extension units on request.
Among the many functional features of the DisplayRacks are precise adjustment. Screens can be aligned continuously and with millimeter precision both in height and width. The result: a visually perfect, uniform joint pattern. Other plus points include special aluminum cable ducts as well as the "invisible" castors integrated into the foot stabilizer, which ensure optimum service accessibility and allow the entire DisplayWall to be moved freely in the room.
Matching media boards with sliding doors are available as an option, providing space for technical installations or the paper tray.
Experience proactive monitor walls!
Conventional LC displays cannot withstand the demanding operation in the control room. We offer you scalable monitor walls for 24/7 operation and displays with ultra slim frames.
Learn more about Monitor walls in our videos
Chosen by leading companies and institutions
What clients report about their experience with JST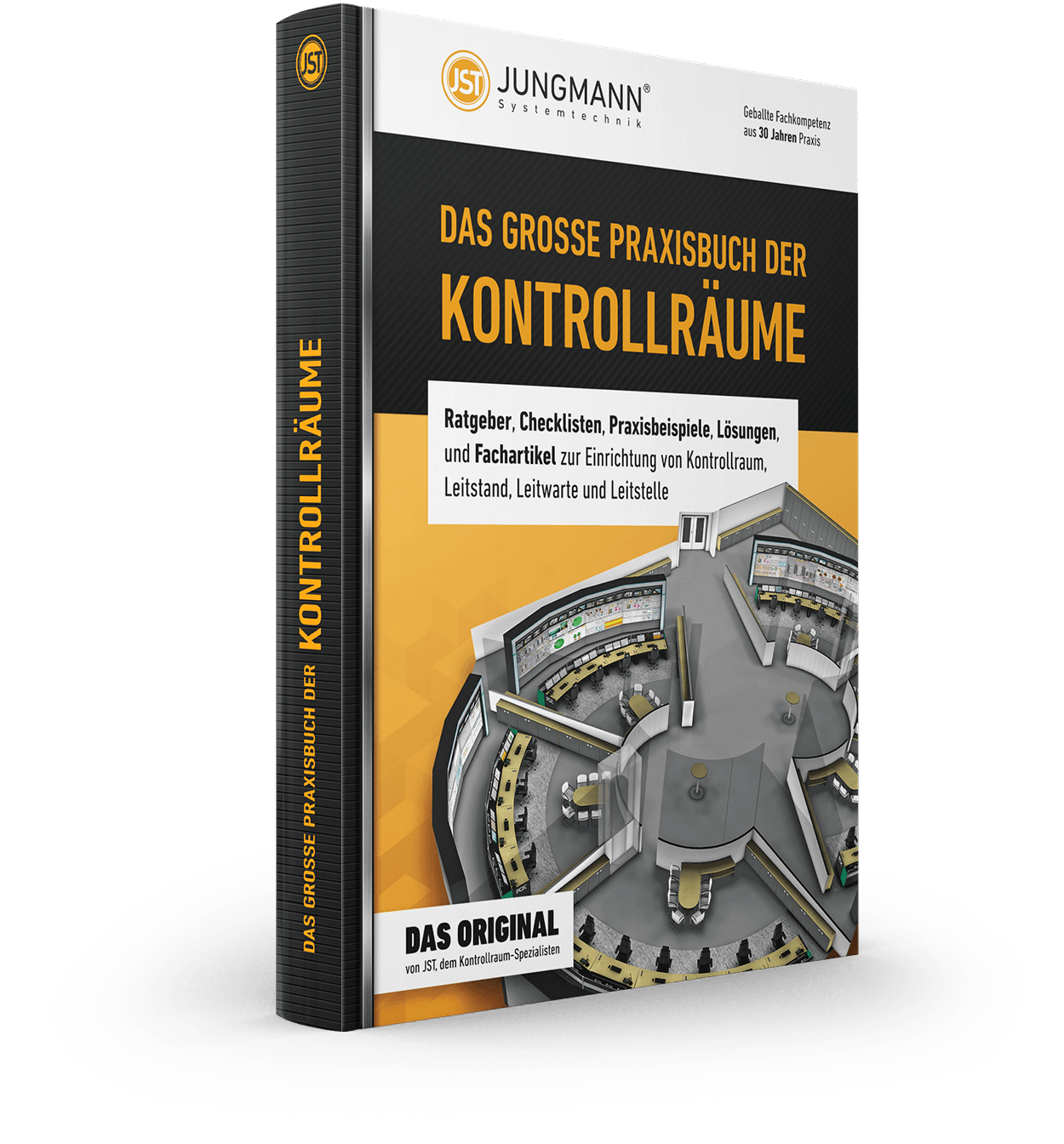 THE GREAT PRACTICAL BOOK OF
CONTROL ROOMS
Guidebooks, checklists, practical examples, solutions and technical articles for the installation of control rooms, control stations and control centers
REQUEST FREE OF CHARGE
FAQ
Monitor walls and display walls must be viewed live to be able to evaluate the quality. Is that possible with the control room specialists?
Our Monitor walls and display walls can be experienced live in our new control room simulator. They form the central component in every control room and are therefore also the heart of our control room planning. When designing the optimal monitor wall, we also think in detail about ergonomics, viewing angle, lighting and hardware. Because a monitor wall must ultimately meet all requirements perfectly. The display wall and monitor wall should always be seen as a central point to which all other elements are aligned. How the perfect interaction between display wall, monitor wall and workstation works, which innovative technical refinements JST has also developed and how fast the transmission of signals works, we would be happy to show you in our
control room-Simulator.
Monitor walls must offer me a real cinema experience (?). Is this the case with the JST display wall?
Monitor walls and display walls with 4K or better 8K – we hear this wish more and more often from our customers lately. The development of high-resolution displays has progressed rapidly in recent years. Some customers also want outstanding visual experiences on the monitor wall in their control room. But what is sensible and comprehensible in the consumer area at home or in the cinema makes little sense in the control room. Why we cannot recommend UHD on the monitor wall? The costs are too high! For a 4K monitor wall with suitable technology, graphics cards, cabling, etc., the costs are three to four times higher. Therefore, our recommendation for the display wall in the control room is: Full HD. "We only recommend our customers displays with special S-PVA panels for reliable 24/7 operation – with ultra slim frames if desired. For the control room, the following applies: Full HD is not only the most economical, but also the most practical decision when it comes to monitor walls and display walls," says Dirk Lüders, systems IT specialist for signal and security systems at JST.
Display walls and monitor walls must constantly provide up-to-date information. How do you keep the overview?
Display walls and monitor walls are primarily used to provide the control room team on duty with all important information just in time. Alarms must be recognized immediately. Incidents should be rectified quickly. To ensure that this succeeds reliably, JST has developed the MultiConsoling®. It controls in real time your display wall or monitor wall independent of the IP network. MultiConsoling® thus combines the characteristics of a graphics controller with the advantages of a fail-safe matrix system and thus ensures the highly available control for your monitor wall and display wall.
For transmission to the display wall, MultiConsoling® simultaneously records all signals of the components to be displayed, such as computers (including keyboard, mouse, monitor, audio), analogue or digital cameras and TV, and distributes them in real-time to individual displays or as BigPicture to the entire display wall consisting of several screens. Thanks to our myGUI® user interface each operator has within four minutes the control of the entire display wall firmly under control!