Client:


Kategorie: Security center.
New security control center for production plants with high quality standards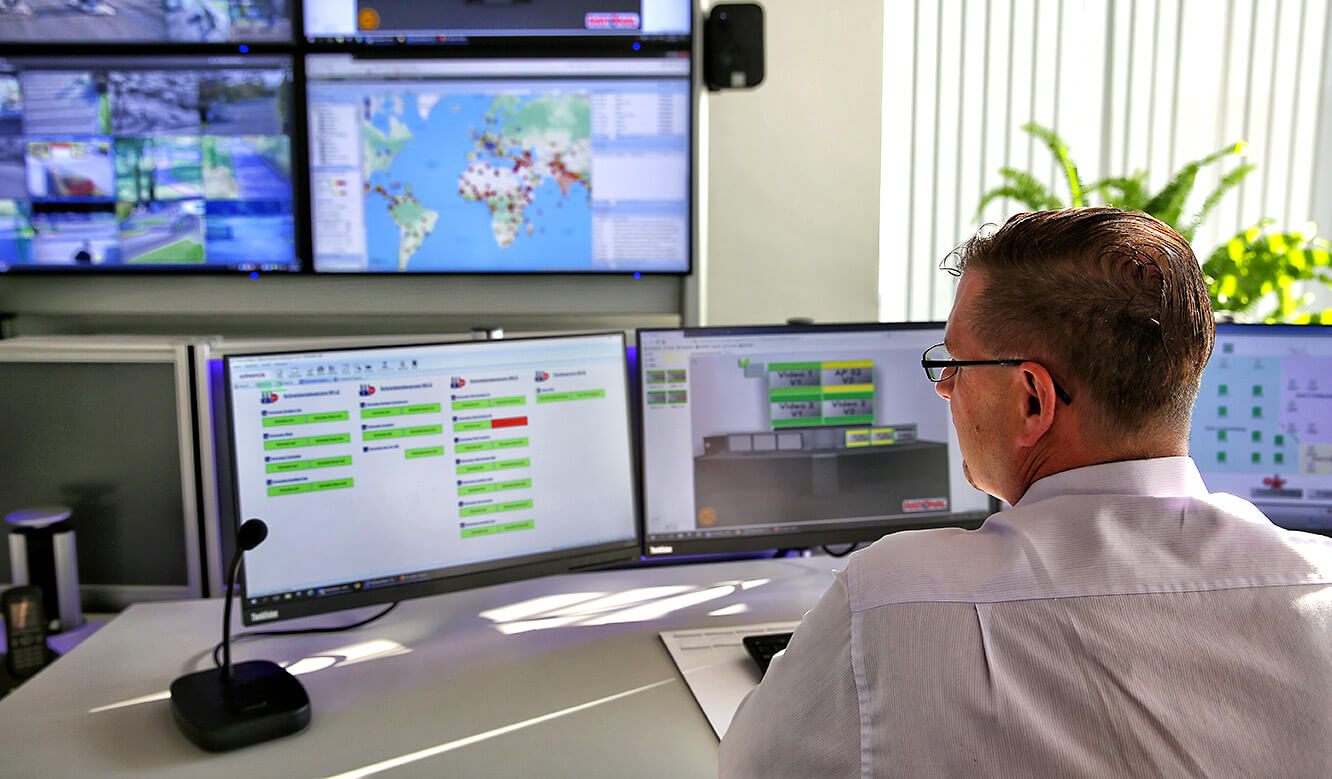 JST control room concept: Technology and ergonomics go hand in hand. With control room components from Jungmann Systemtechnik, the new security control center of RATIONAL AG in Landsberg am Lech is equipped for the future. Thanks to flexible system control, monitoring tasks have been significantly optimised.
Over 900,000 combi steamers produced for professional kitchens around the world. 130 million dishes prepared daily in these machines worldwide. Dizzying numbers that have their origin in the Bavarian Landsberg am Lech. This is where RATIONAL AG produces combi steamers, which have been in demand all over the world for years for their strong performance. And not only does Rational set new standards in terms of quality in its own production, but it also expects the same from its partners. Which the team of Jungmann Systemtechnik was able to fulfil when building the new security control center.
The requirements were clearly defined from the beginning: The new security control center for the production site in Landsberg am Lech was to be equipped with innovative technology that offers maximum operating convenience, as well as ergonomic furniture that allows fatigue-free working.
The JST team left a lasting impression
"We asked around in the industry here in the Munich area, and kept getting the tip 'Go to Jungmann!'," recalls Michael Happach, Head of Corporate Security at RATIONAL AG. To round off his impression of JST, Happach visited the ko:mon congress for control room technology & monitoring and the reference customer Roche, a pharmaceutical company, in Penzberg. Happach: "It really inspired us. The JST team is young and committed, but at the same time serious and competent. That really left an impression."
All systems under control with one mouse and keyboard
The solutions for the new RATIONAL security control center have impressed the experts. Video surveillance, building management systems and fire alarm components – until now, separate keyboards, mice and computers for each area. This is now a thing of the past, because JST has installed a much easier to use solution with its MultiConsoling® technology. Today, the control room employees can switch all desired applications to any desired monitor or to the displays of the new large display walls using only one keyboard and one mouse.
"A user interface that makes you feel at home"
For Michael Happach it is clear: "A user interface that makes you feel at home and allows you to control all systems is a great advantage." In his opinion, the employees of the security control center also benefit in other ways from the now much clearer workplaces: "This tidy world has a positive effect on the working climate."
"User-friendly and easy to handle"
"The whole system is extremely user-friendly and easy to handle. This is exactly what we were looking for in a security control center," confirms operator Arnd Billy, who worked together with Michael Happach on the project. "The new monitor wall in particular offers helpful display features. Everyone has an overview of the essential things and we don't have to crowd around a small screen anymore."
Constructive contact as a central theme
Conclusion of the RATIONAL safety experts: "Cooperation with the Jungmann team was constructive from day one. We were practically on the same wavelength. That was a common thread running through the entire project from start to finish."