Client:


Kategorie: Switch room.
Quality awareness has convinced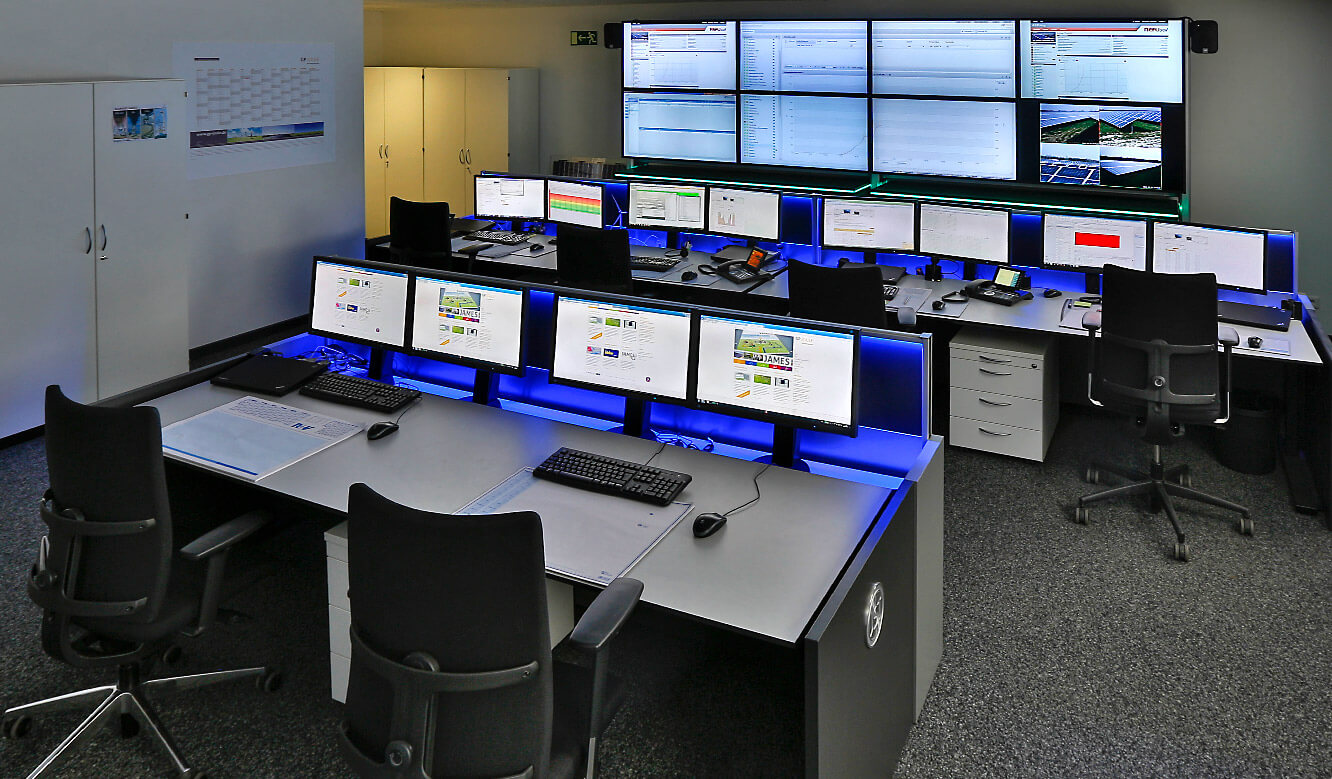 JST control center: Just as the processes of the GP JOULE energy control center are structured, the room ambience is also reflected by the Stratos X11 operating desks and the JST large display wall - straightforward and linear.
For the second time within a few months, the Jungmann Systemtechnik team was able to demonstrate its technical know-how for GP JOULE GmbH, which specialises in renewable energies. Two control centers, in which redundant systems operate, have been implemented for the power plant project planner with the business fields of solar energy, wind energy and biomass.
Both comfortable and high-tech workplaces are concealed behind the former agricultural buildings of the two company founders Heiner Gärtner and Ove Petersen in Reußenköge in North Frisia and Buttenwiesen in Swabia. At both locations Jungmann Systemtechnik scored with modern large display walls, special furniture for control rooms and technical innovations.
Through a recommendation, the project managers from GP JOULE came across JST. "We were immediately convinced of the company's high quality awareness, which is why we favoured JST for both projects from the outset," recalls Service Manager Stefan Jensen, recalling the first planning steps And even today – after the commissioning of both control centers – GP JOULE is satisfied with the decision it has made. Stefan Jensen: "The cooperation worked out excellently. The JST employees have worked very carefully and conscientiously."
Both Reußenköge and Buttenwiesen from photovoltaic projects as well as wind energy plants in the MW range, which GP JOULE has planned and realised itself, are monitored. This service is also offered to other companies looking for professional monitoring of their power plants. Whether alarms, camera images or energy flows – thanks to the clear display on the large display walls , employees have a complete overview of the performance data and live images of all systems.
Stefan Jensen: "The technology we have at our disposal is first-class and offers optimum display options. Great importance was also attached to ergonomic workstations. "Our employees appreciate the intuitive operation of the systems with JST- MultiConsoling® and the pleasant room atmosphere", says Jensen about the work in the new control centers.
Federal President Frank-Walter Steinmeier, who visited the JST control center at GP JOULE's headquarters in Reußenköge together with Schleswig-Holstein's Prime Minister Daniel Günther, has now also been convinced of the energy supplier's performance. The delegation led by Federal President Steinmeier visited the first megawatt-class power-to-gas plant developed and installed in Schleswig-Holstein.
More on this HERE.