Client:


Kategorie: Production control center.
NWKG - Everything in view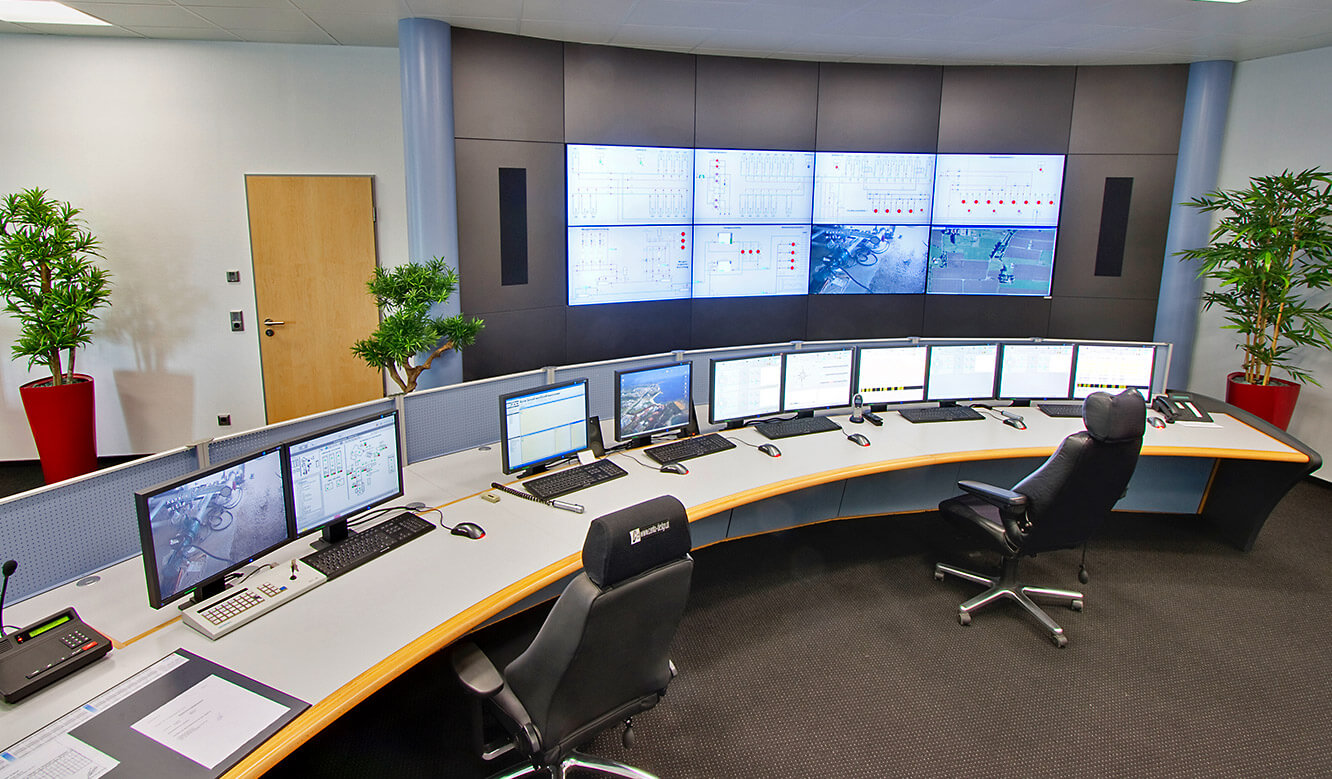 Control center of NWKG technically and optically modernised.
NWKG stands for Nord-West Kavernengesellschaft. NWKG in Wilhelmshaven is the largest cavern operator in Europe and stores around 10 million cubic metres of crude oil and its products underground for the Oil Stockholding Association.
In a joint project with Siemens AG, JST has modernised the control center of NWKG technically and optically. Siemens AG took on the role of the general contractor; JST was commissioned by Siemens AG as a specialist for large-screen technology and control room ergonomics with the planning and implementation.
The existing control center furniture was no longer up-to-date in its appearance. Ergonomically, however, they still complied with the EU guidelines for computer workstations and were in very good condition due to their robustness. For this reason, the NWKG decided, after examining JST's redesign proposals and their presentation in photo-realistic interior design plans, to make improvements to the existing console. The console redesign was based on the "JST-STRATOS CommandDesk". In the course of this, spatial changes and renovation work also carried out. Ceiling, floor, lighting etc. were renewed.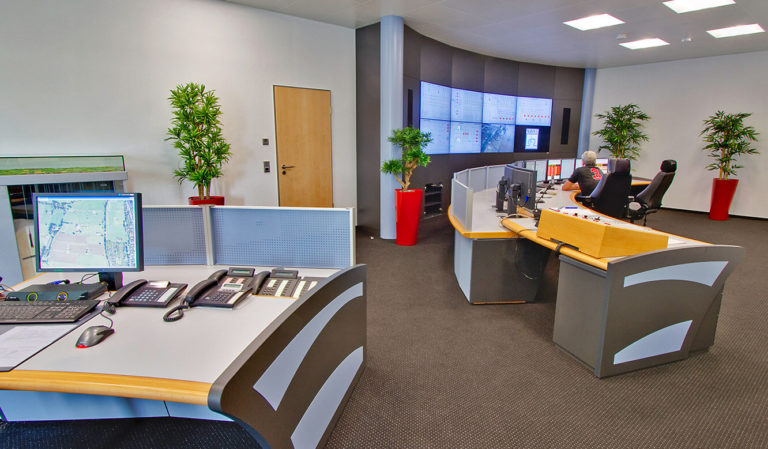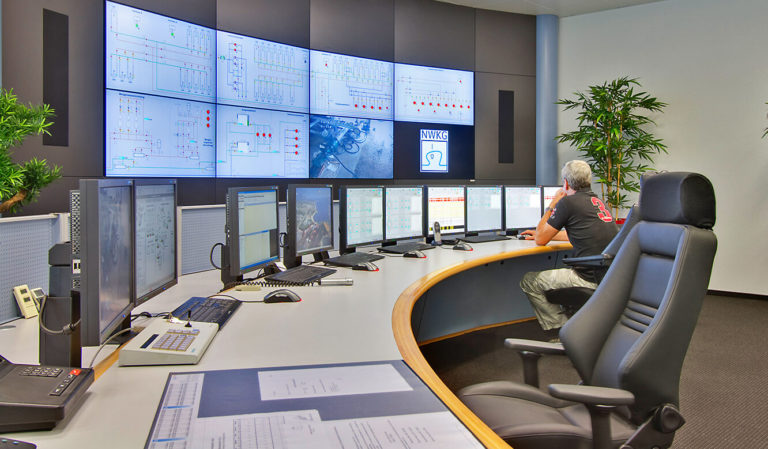 The mosaic wall no longer met the technical requirements and was replaced by a large display wall, which now flexibly displays the current status of the plant. Ultra-SlimLine LC displays with extremely narrow frames are used, so that there is only a distance of 7.3 mm from picture to picture. This is a particular advantage when pictures are displayed as big-picture across the display frames. The plant images to be displayed are supplied by the process control system "PCS 7″ from Siemens AG.
8 x 46" Ultra-SlimLine displays in a slightly curved arrangement. Large screen wall cladding in anthracite grey. Behind a generous cut-out with fabric cover there are several loudspeakers, see next picture.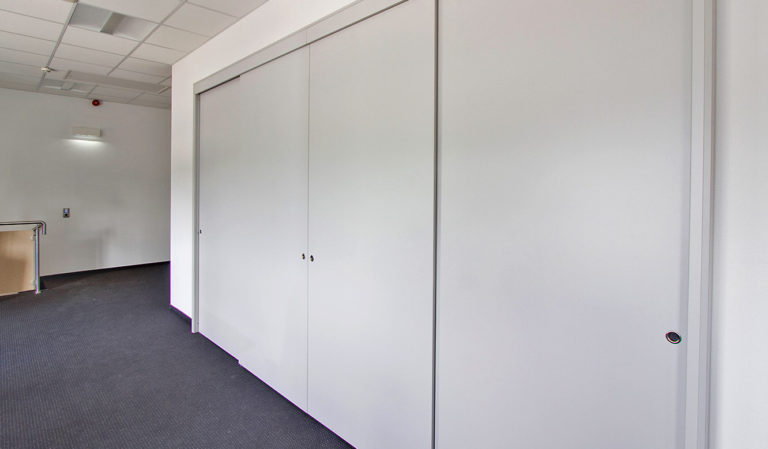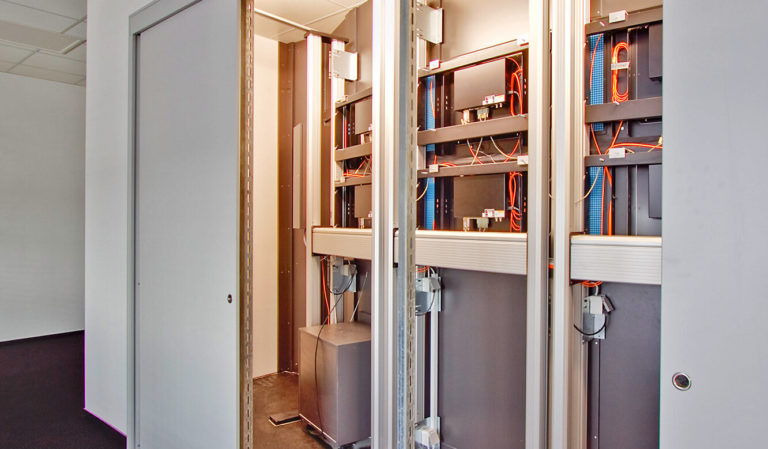 Sliding doors on the back of the large display screen cladding as room-in-room function. Behind the sliding doors are the stable display racks for holding the LC displays.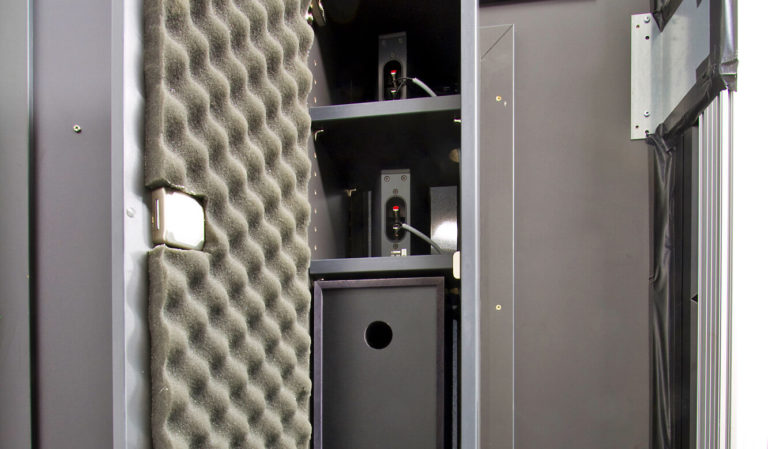 Speaker installation behind the large display screen cladding. Media cabinets with two adjustable shelves and two LSG all-glass doors.