Visit the unique control room simulator from JST
Having a vision of the future is good. Experience is better!
Visit the control room simulator that is unique in Europe. Discover the synthesis of state-of-the-art technology and the latest ergonomic know-how. The control room of the future opens the gates for your individual adventure – optionally as:
interactive meeting (remote)
directly on site (live)
the combination of both options (hybrid)
Whether virtual or live on site – the workshop in the control room simulator is free of charge. Please make an appointment in advance.
The advantages of your remote session:
Thanks to state-of-the-art camera technology, you and your team will experience an online tour through our control room simulator with our experts – also in parallel from multiple locations. We look forward to welcoming as many project managers and employees from the control center as possible to the virtual meeting.
Live demonstrations
Any number of participants
Integration of decentralized locations
No travel times
No costs
No risk of infection
One solution for all: Hybrid format control room journey
Finding a common meeting date for a larger group? A tricky plan not only in times of contact restrictions. That's where desire and reality are often diametrically opposed. For some, the long distance to get there throws their schedule into disarray. Others don't want to miss the chance of face-to-face meetings and live impressions.
JST delivers the ultimate solution: a workshop in Europe's most modern control room simulator in hybrid format.
While one part of the team gets to know and tests the control room world "live and in color" on site, the rest looks over the shoulders of their colleagues, so to speak, gets involved and takes part in the action virtually. In this way, any number of participants can be remotely connected to the meeting and directly coordinate with the present participants. Everyone benefits equally from the input of the experienced JST consultants. There is no need for time-consuming exchange of experiences after the return.
Would you like to learn more? We look forward to your inquiry!
Whether virtual or live on site – the workshop in the control room simulator is free of charge. Please make an appointment in advance.
Which workshop format matches to you?
Remote
Start your virtual journey into the control room of the future conveniently from a location of your choice.
Hybrid
You and your colleagues decide freely: Who wants to experience the "test drive" live and who will accompany the session online?
Live
We welcome you directly in Europe's most modern control room simulator and your adventure can begin.
PROJECT WORKSHOP
The project workshop in the control room simulator for clear
project, target and budget definitions
Use your visit to our control room simulator as a project workshop to develop clear goals and coherent concepts for your control room project. We will support you in it!
In a single project workshop we will create a clearly defined concept for your control room and control center, including a budget estimate.
The tour of the control room simulator is free of charge. Please make an appointment in advance.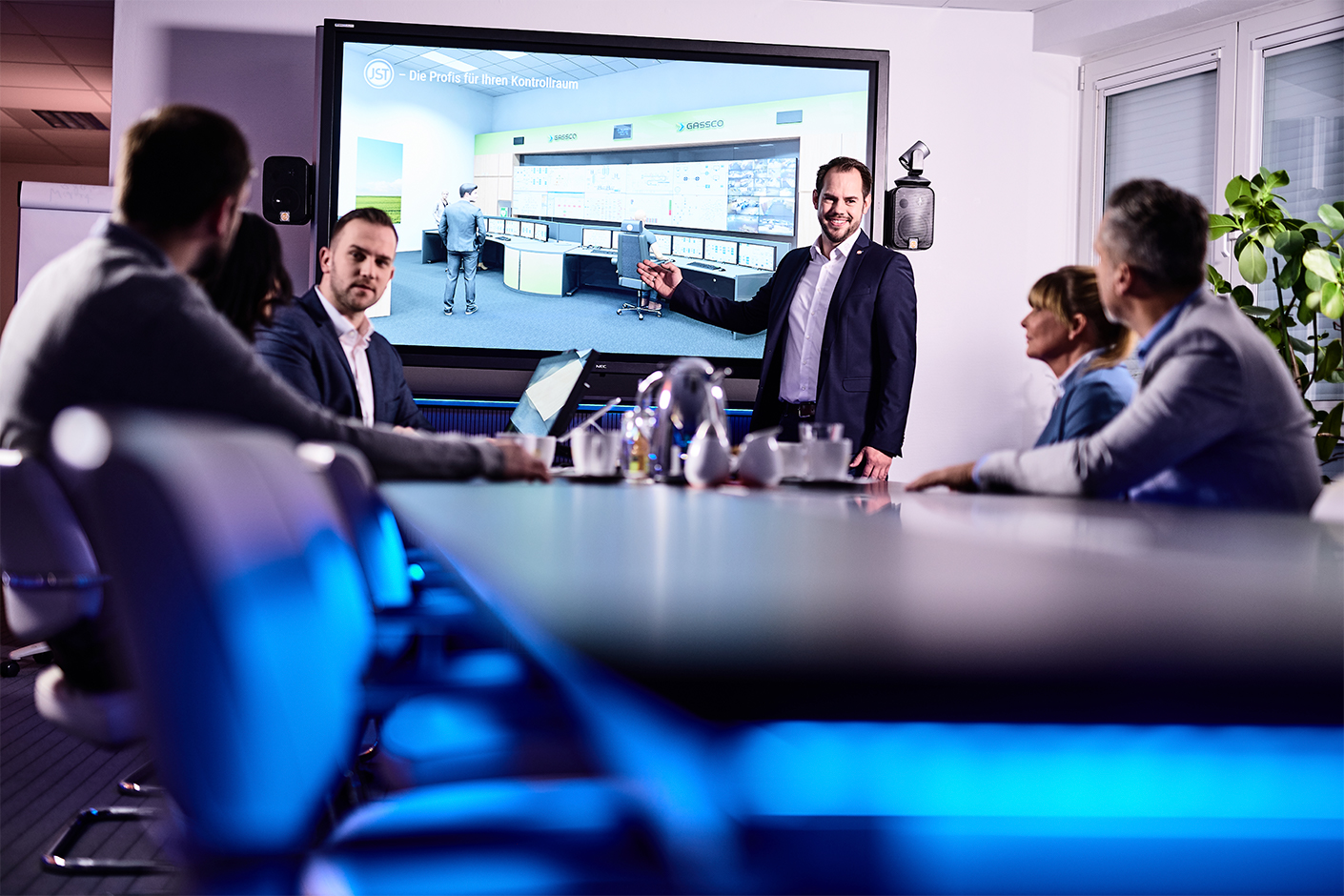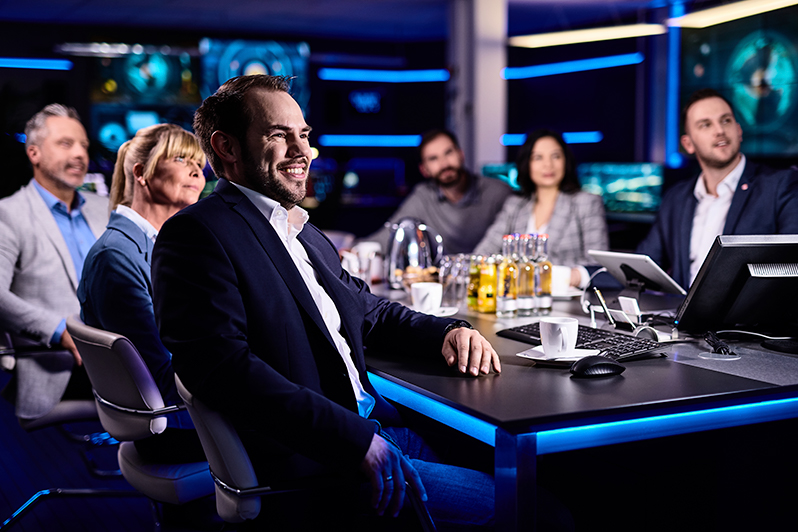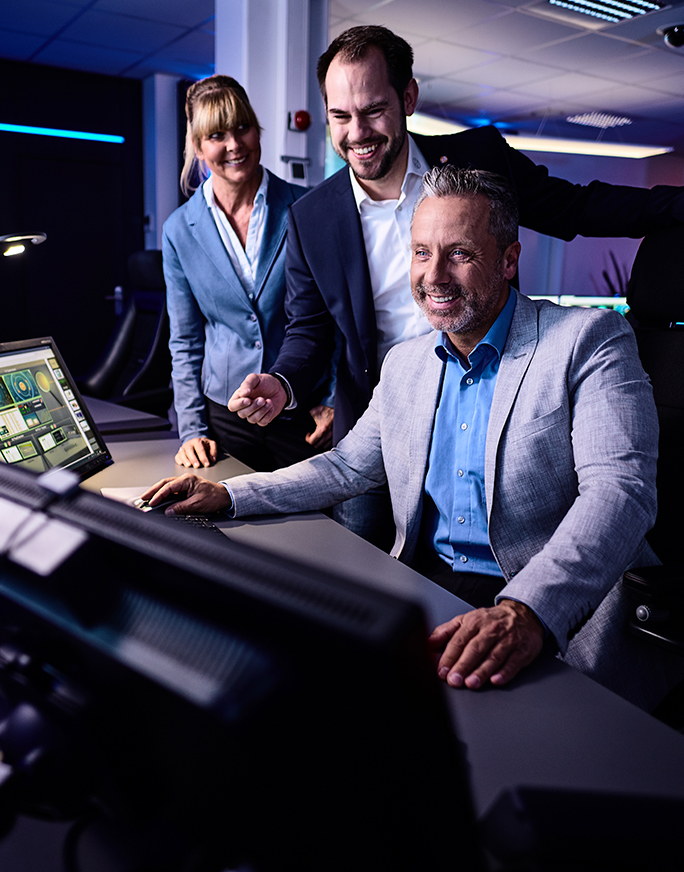 This is what you can expect in the project workshop:
1.
We record your actual status (technology, equipment, processes, …)
2.
We examine the information hierarchy, check the optimal seating arrangement and analyze how a large-screen system  can support your control room team.
3.
We present the latest large image techniques, especially the different control options and explain dependencies on resolutions, image sizes, viewing distances and much more.
4.
We discuss whether it makes sense to relocate the noise- and heat-producing workplace computers. We will also assess with you whether the many screens at the workplace can be reduced with MultiConsoling® technology.
5.
We determine a budget price based on the concept that is developed. This provides you with a coherent rough outline and a clear target for the further procedure.
6.
We determine a budget price based on the concept that is developed. This provides you with a coherent rough outline and a clear target for the further procedure.
---
---
---
---
---
What will you experience in the control room simulator?
Optimal display of your applications on different DisplayWalls
More flexibility and easier operation of all your systems with MultiConsoling® and myGUI®
Better overview and faster alarm clearance with JST CockpitView®
React faster with PixelDetection®
More security through JST-myLogin® and proven failover concepts
Stratos X11® standing/sitting operator's console, JST TacticTable® and innovative ergonomic, lighting and acoustic concepts for fatigue-free and concentrated work
Maximizing performance & flexibility – with the interactive JST TacticTable®
A look into the future with augmented reality and speech and gesture control
---
---
---
---
---
---
---
---
---
---
Go with us on an adventure tour into the world of modern technology
---
---
---
---
---
---
---
---
---
---
Let's go on a large display hunt
Take a look into the future and take a close look at the latest large-display technology in the control room simulator. Whether LED rear-projection cube, monitor wall, Videowall, large-format system or DisplayWall – you can expect technology of the highest level, naturally also in terms of software.
Our JST-PixelDetection® software shows you the automated alarm activation on the large display wall. The alarm and management tools you use are only displayed when they require your attention. Reaction times are drastically reduced!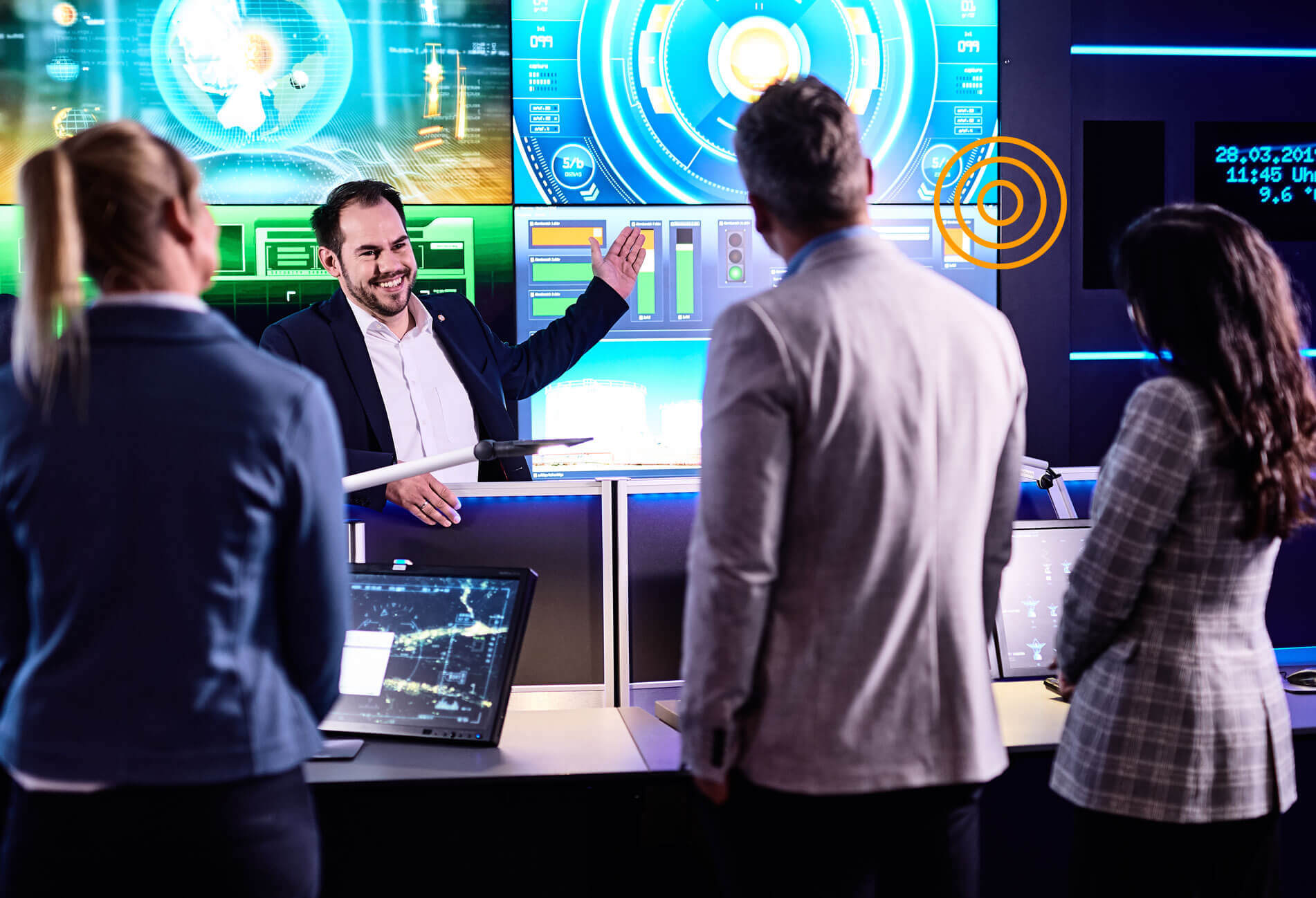 Enjoy the new freedom
In the control room simulator, you can actively test the flexible MultiConsoling® workplace circuitry yourself and experience its advantages first hand. A win for every workplace! Thanks to MultiConsoling®, fewer screens are needed, employees choose their seats according to the free seating principle, and teamwork is encouraged. The computers are located securely and air-conditioned in a remote technical room. In addition, MultiConsoling® enables interconnection between workstations and large-format systems. You control the entire system via the intuitive myGUI® user interface.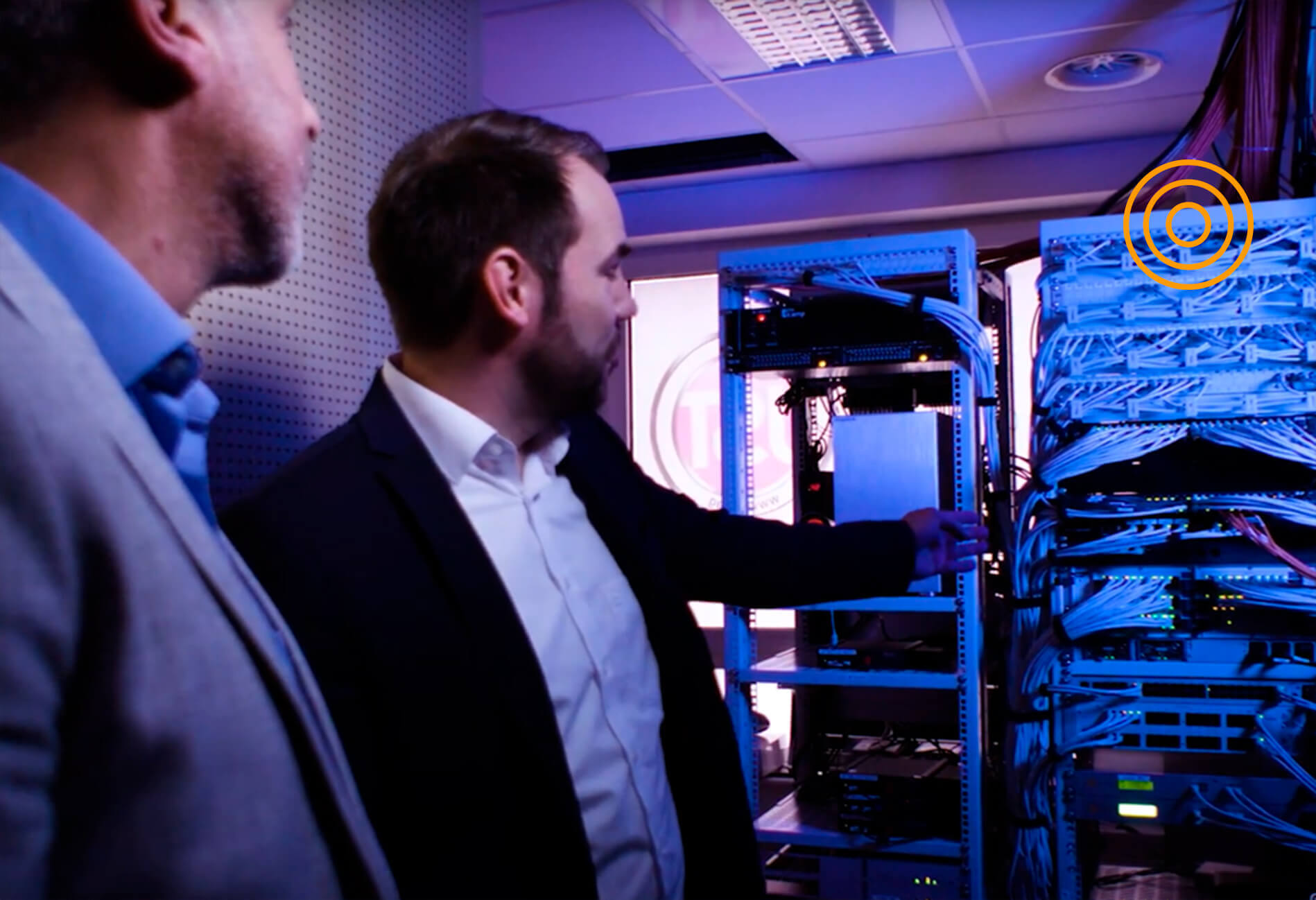 Discover unimagined comfort
Try out the special control room furniture of JST: the Stratos X11® control center desk with stand-sit height adjustment for sophisticated demands of shift operations, operator chairs for 24/7 continuous use, acoustic large-screen wall cladding and ceiling systems, the Opal X11® acoustic ceiling sail, control room lighting concepts, crisis room solutions, conference desk with various PC connection interfaces, meeting point and much more.
Ergonomic aspects have top priority for JST. We develop the control rooms of the future – by people for people.
---
---
---
---
---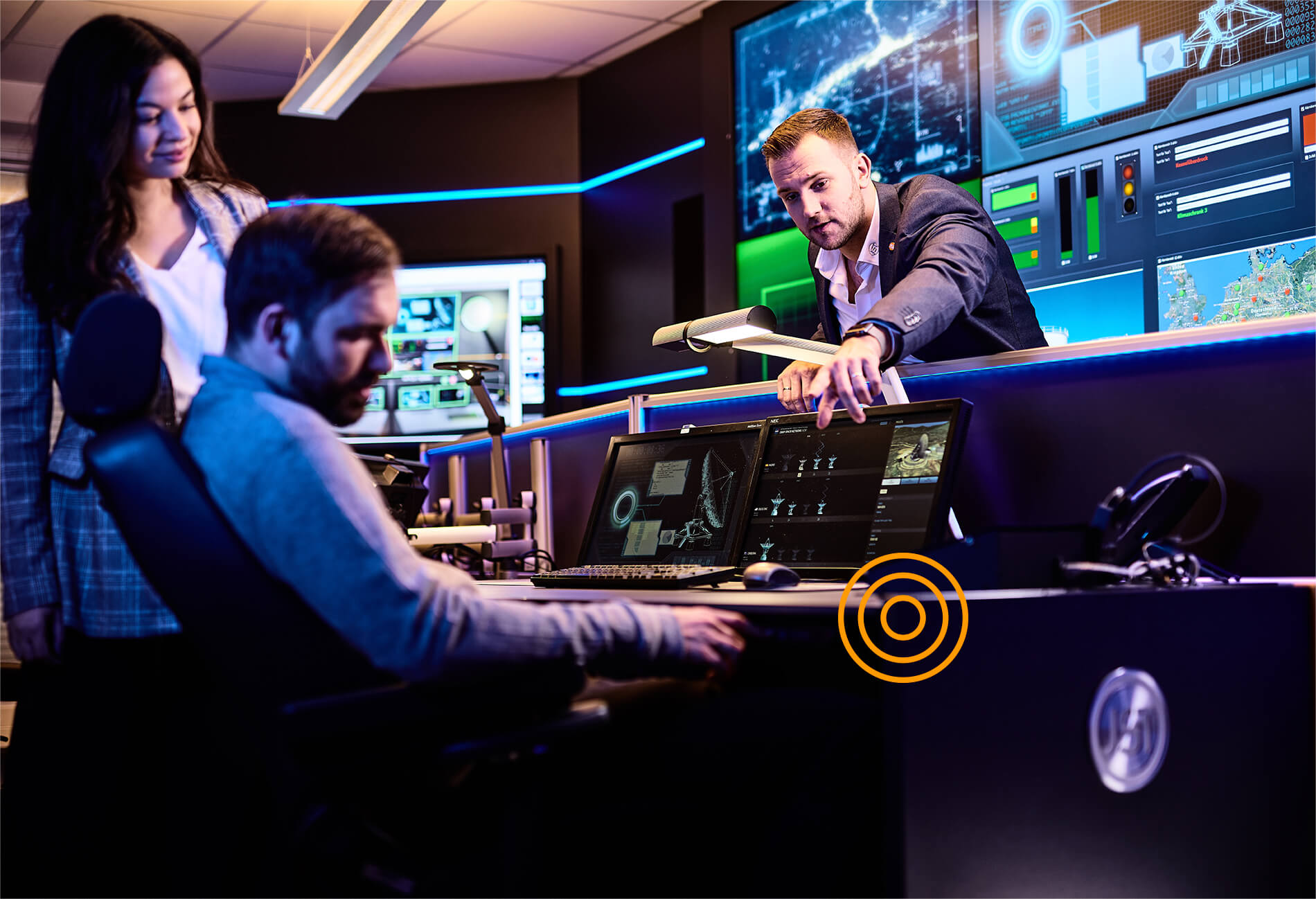 The team player in the control room
With the JST TacticTable® you experience more performance & flexibility in your control center. An interactive multi-touch screen with smart technology – designed for professional use. The ultimate solution for team-based decision making. Access all control room sources and processes. Use flexible gesture control and secure handling with the intuitive myGUI® interface. Create new perspectives for communication in your control center with the JST TacticTable®.
---
---
---
---
---