---
---
---
---
---
Modernising power supply control rooms in the energy and water industry with tried and true solutions

---
---
---
---
---
If you are looking for professional support in modernising your power supply control room, JST is the right partner. With almost two decades of expert know-how, we are able to implement sophisticated and technically refined power supply control rooms for all branches of the energy sector. With us there are no cookie-cutter solutions. We will plan your power supply control room according to the specific needs of your company and the architectural conditions on site. We put the finishing touches on your new power supply control room with visionary professional tools developed by JST to meet the highest demands. Our PixelDetection® monitoring software, for example, works reliably in the background just like an additional watchful eye and will alert you at the right moment. Would you like to experience all the possibilities for your power supply control room live? We would like to invite you to our control room simulator. You will be thrilled!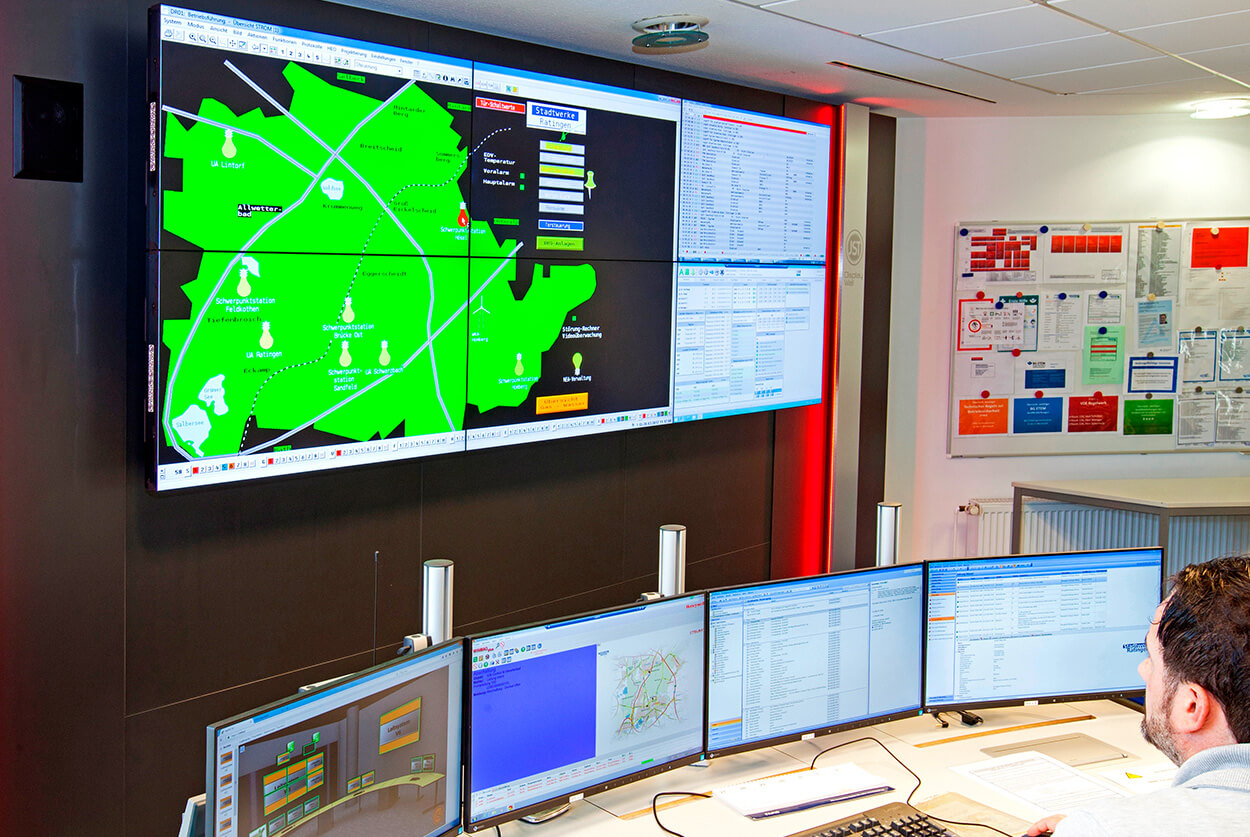 Stadtwerke Ratingen
From a single source: architecture, technology, light, acoustics, climate
Stress-free: thanks to efficient operation

Pleasant: Optimal working atmosphere
Practical examples: Power supply control room modernisation
---
---
---
---
---
Whether in industry or at public utilities: 24/7 continuous operation in the energy industry is subject to strict safety regulations that must be observed at all times. Considerable damage can happen quickly in an emergency. It therefore makes sense to significantly reduce the workload of the employees by modernising the power supply control room. We know the requirements and know which hardware and software solutions will provide the greatest benefit for you. This also applies to our ergonomic control room furniture which is an important part of a good working atmosphere. Browse through our references. We are confident that there is a completed project that fits your requirements.
We will be happy to put you in touch with the appropriate contact person.
---
---
---
---
---
Impressive quality awareness
For the second time within a few months, the team from Jungmann Systemtechnik was able to demonstrate its technical know-how for GP JOULE GmbH, which specialises in renewable energies. Two control rooms, in which redundant systems operate, were constructed for the power plant project planner in the fields of solar energy, wind energy and biomass.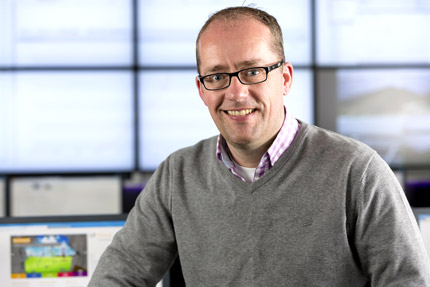 "The technology we have at our disposal is first-class and offers optimal display capabilities."
GP JOULE Service Manager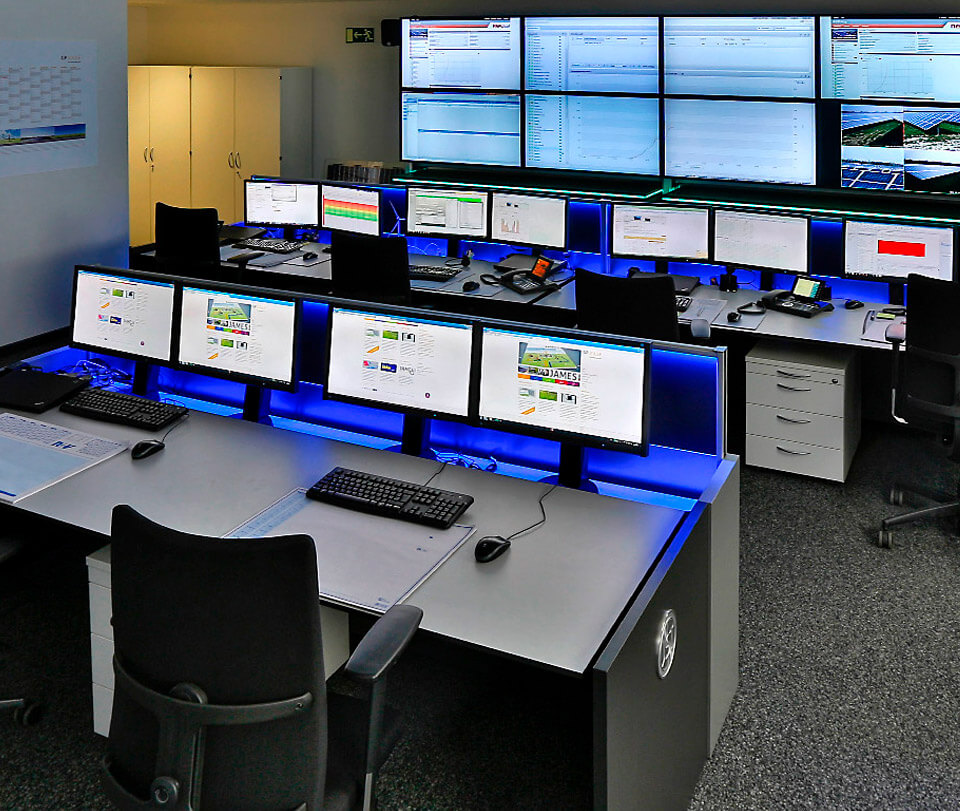 Innovative upgrade for power supply control center
"Electricity everywhere and at all times" – according to this guiding principle, around 160,000 so-called extraction points in and around Magdeburg are supplied with electricity. Responsible for this: Netze Magdeburg GmbH, a 100% subsidiary of Städtische Werke Magdeburg In order to remain true to this maxim at all times, the power supplier has now brought in a strong partner. With the support of Jungmann Systemtechnik GmbH, the power supply control center was extensively modernised.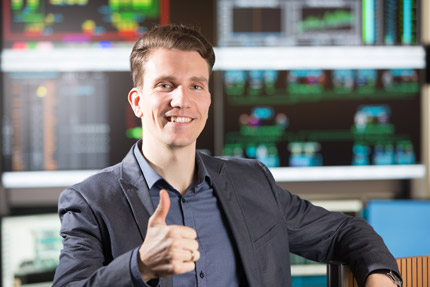 "That was really an excellent collaboration. Our individual wishes were met immediately. And also in retrospect I have to say that the entire system is very easy to maintain. There are no problems with the software or the technology. Really great!"
Project Manager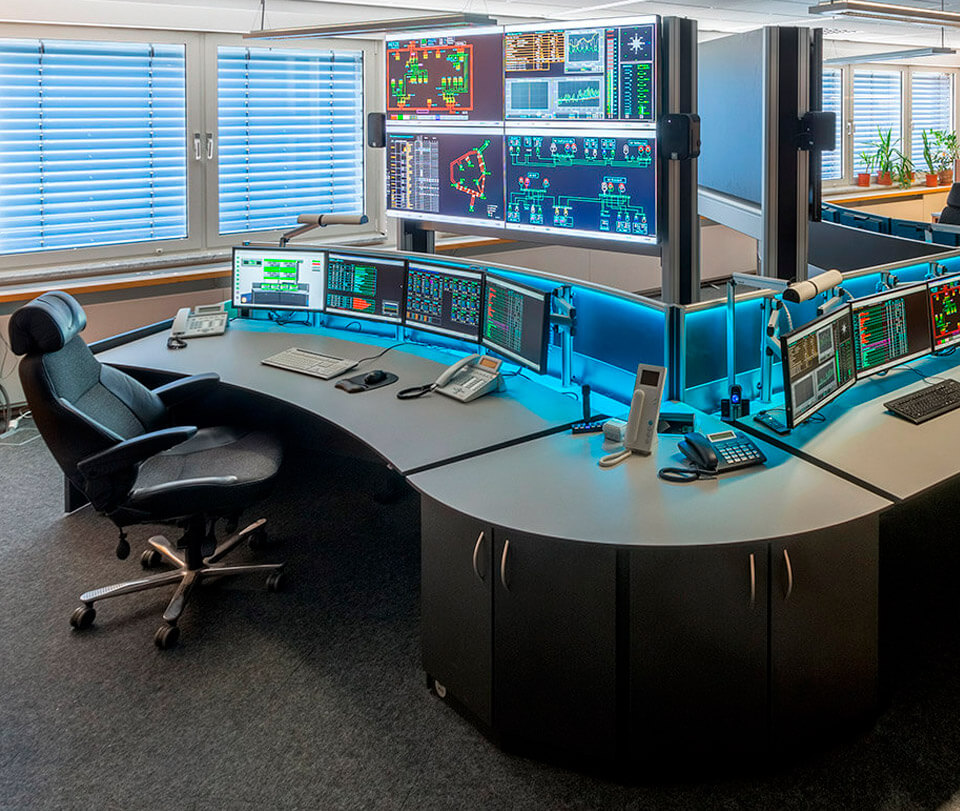 Target achieved with integrated control center
Electricity, gas, water, district heating and power generation – the range of tasks performed by the operators in the control center of Stadtwerke Gießen is extensive. The supply of around 150,000 inhabitants in the catchment area of the public utility company is controlled from there. It is particularly important that all "cogs fit together smoothly." Dialogue among employees must take place without obstacles. To this end, the necessary technical and ergonomic conditions have now been created – with the support of the Jungmann Systemtechnik team.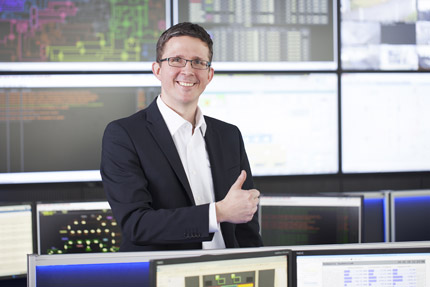 "The entire collaboration we have had with JST can only be described as very professional – from perfect preparation to the end result."
Head of the Power Supply Control Center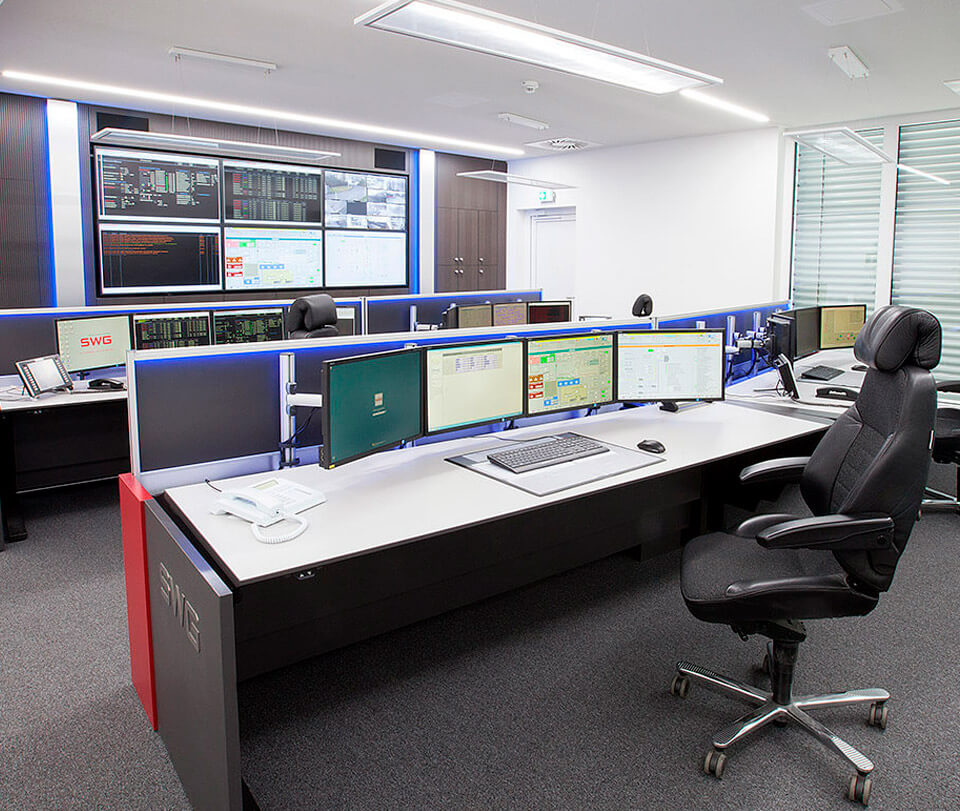 Was möchten Sie als Nächstes tun?
FAQ
We want to modernise our power supply control room We would like to get to know the products, software and control room furniture from JST in advance. Is that possible?
Yes, it's possible! We would like to invite you to our control room simulator. This is where you can and should try out everything yourself. In the simulator for control rooms, unique in Europe, you can experience our fascinating technology and our understanding of perfect ergonomics. Here you can try out everything that JST has to offer in its portfolio live. Get an amazing first impression of what your new control room could feel like. Welcome to the control room of the future!
What will we experience in the control room simulator?
In our power supply control room you can experience the possibilities of the near future live. An exciting tour awaits that will inspire you with the latest technology.
With us, you will experience the optimal display of the systems on the corresponding monitor walls,
with MultiConsoling® and myGUI® you will receive maximum flexibility and simplify the operation of your systems,
CockpitView is the personal dashboard of the operator and shows everything at a glance,
PixelDetection® is a high-speed tool and reduces the reaction time to a minimum,
JST-myLogin® works at every workstation and has revolutionised the simplicity of logging in,
Control room furniture and innovative ergonomic, lighting and acoustic concepts take fatigue-free and concentrated work to the next level,
as well as "Augmented Reality" and voice and gesture control.
We have countless monitors in our power supply control room. How can we cleverly solve this problem?
Our solution is flexible workstation interconnection with MultiConsoling®. You can try out how this works for yourself in our control room simulator. If you opt for MultiConsoling®, the number of individual screens will be reduced to the necessary minimum. We will also sort out keyboards and mice. Another advantage is that the operators are free to choose the location of their workstations. It is possible to set up any number of workstations at which employees can log in as required. Teamwork is encouraged, employees can spontaneously get together to form a rapid response force wherever it makes sense. Through computer relocation we can also create a better atmosphere. We simply relocate disturbing noises and high temperatures. These and many other ingenious solutions are only available from JST Systemtechnik.
We are happy to answer any questions you have regarding the modernisation of your power supply control room
0800-777 8 666