Client:

Category: Production control center
Switch room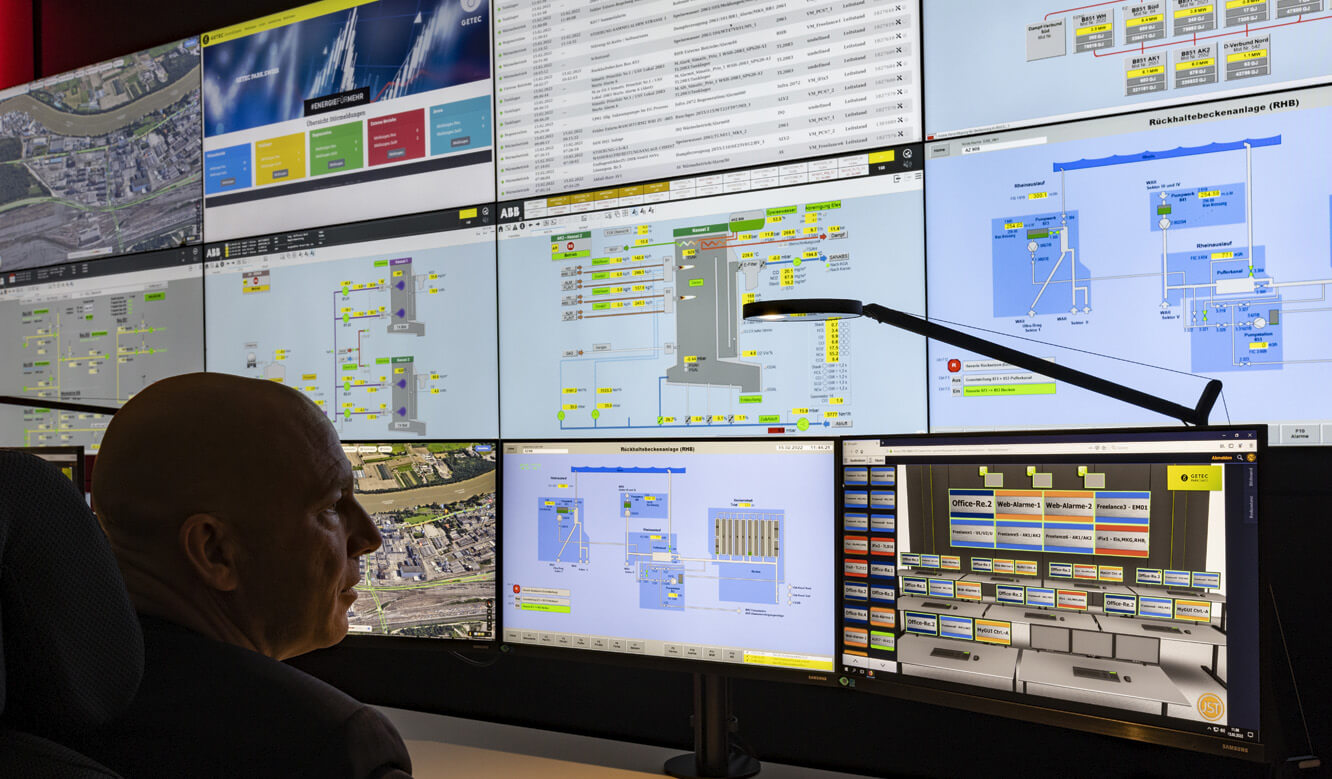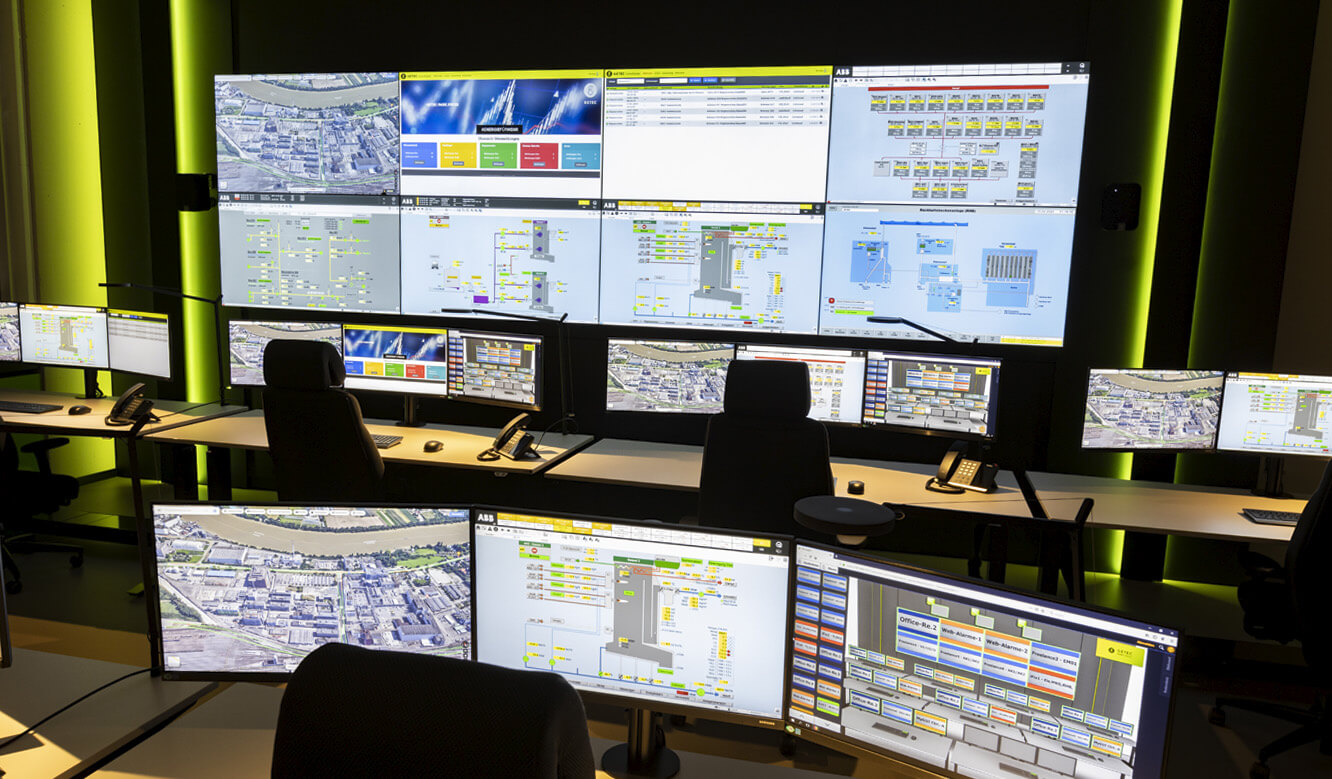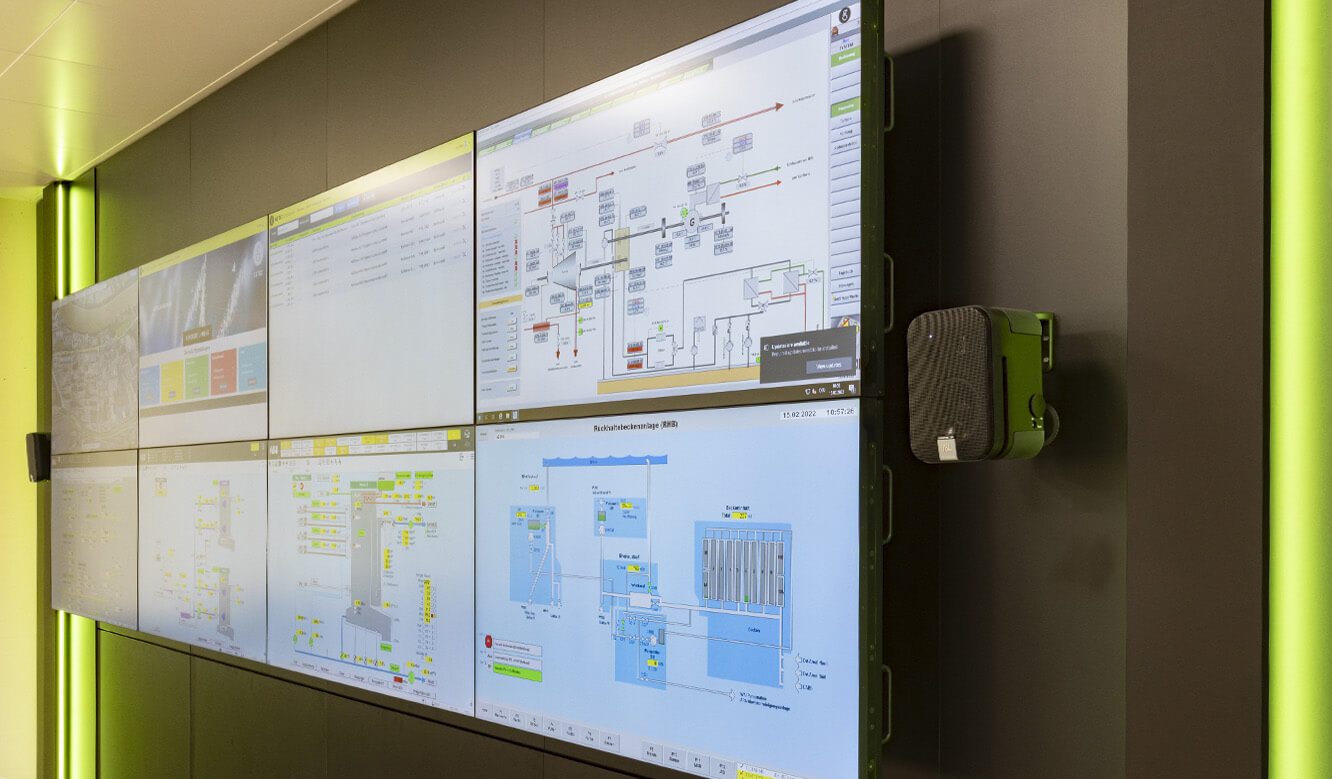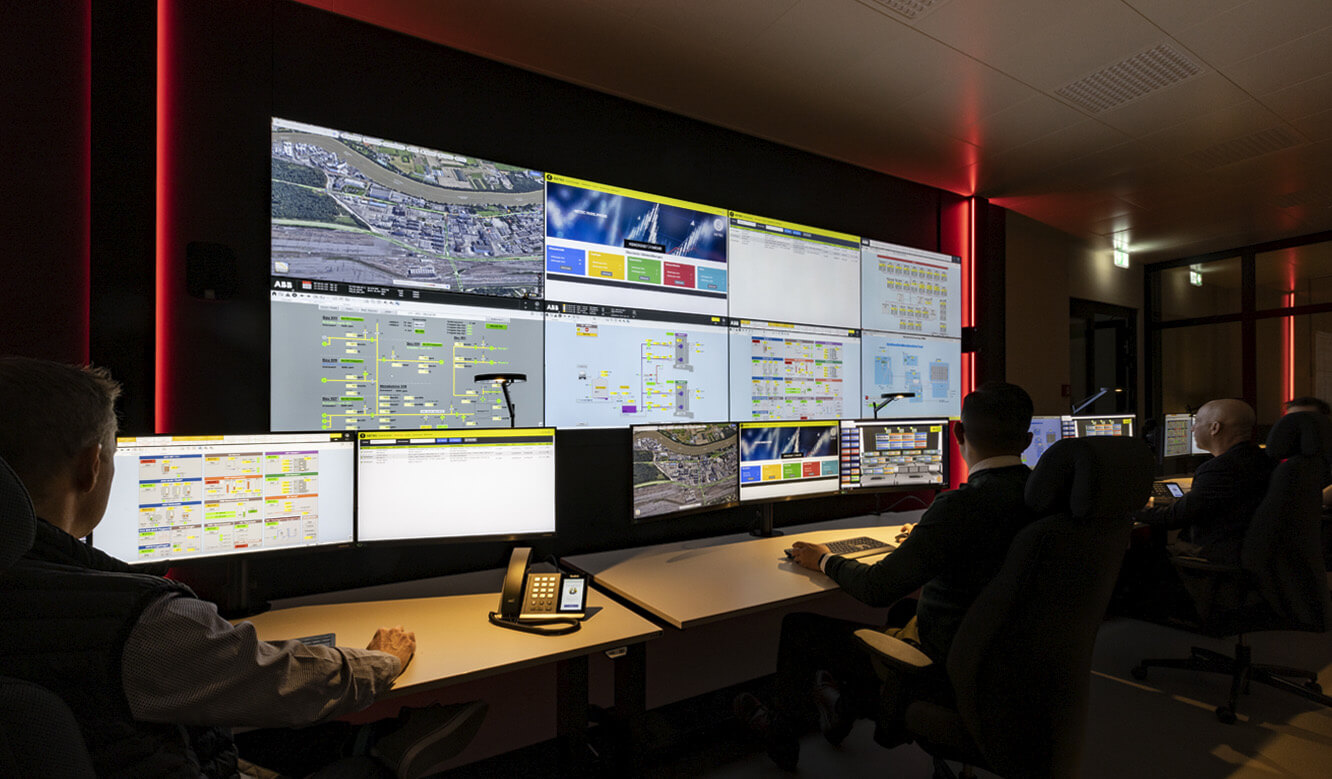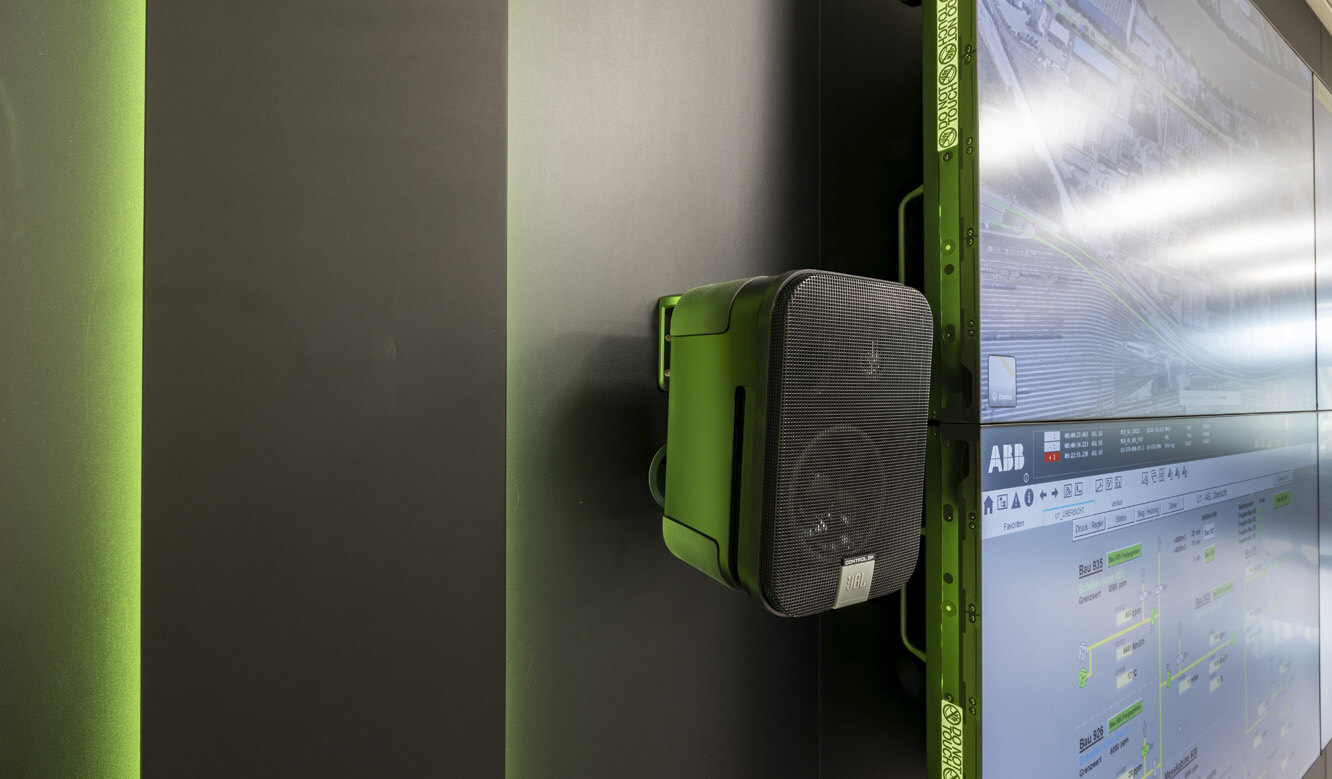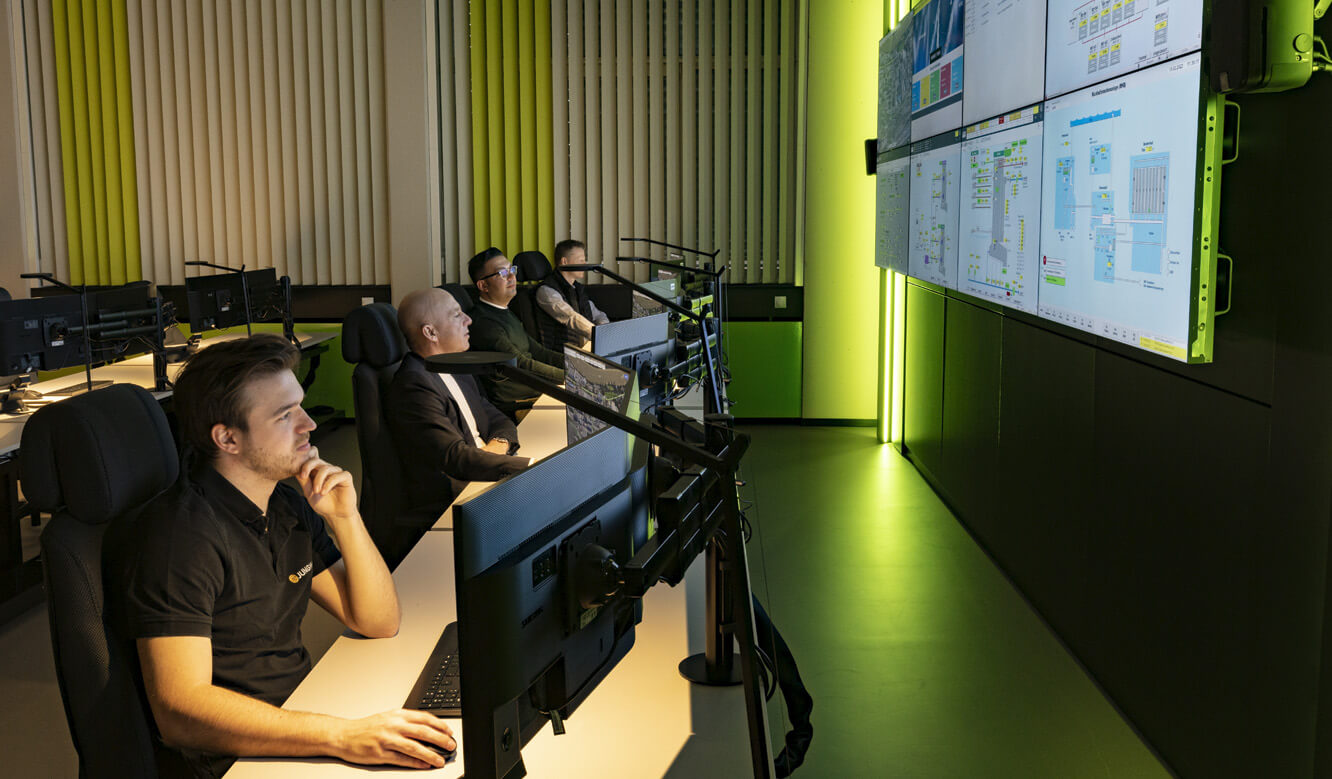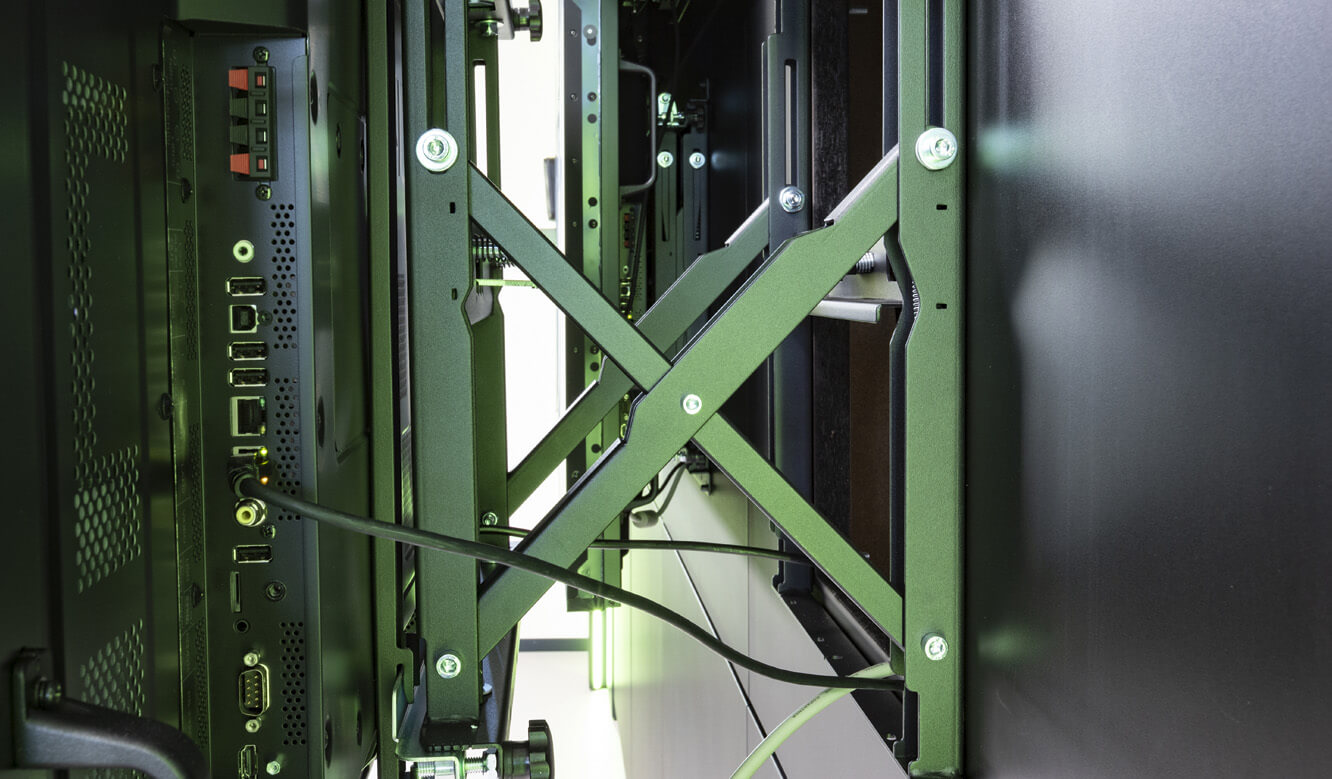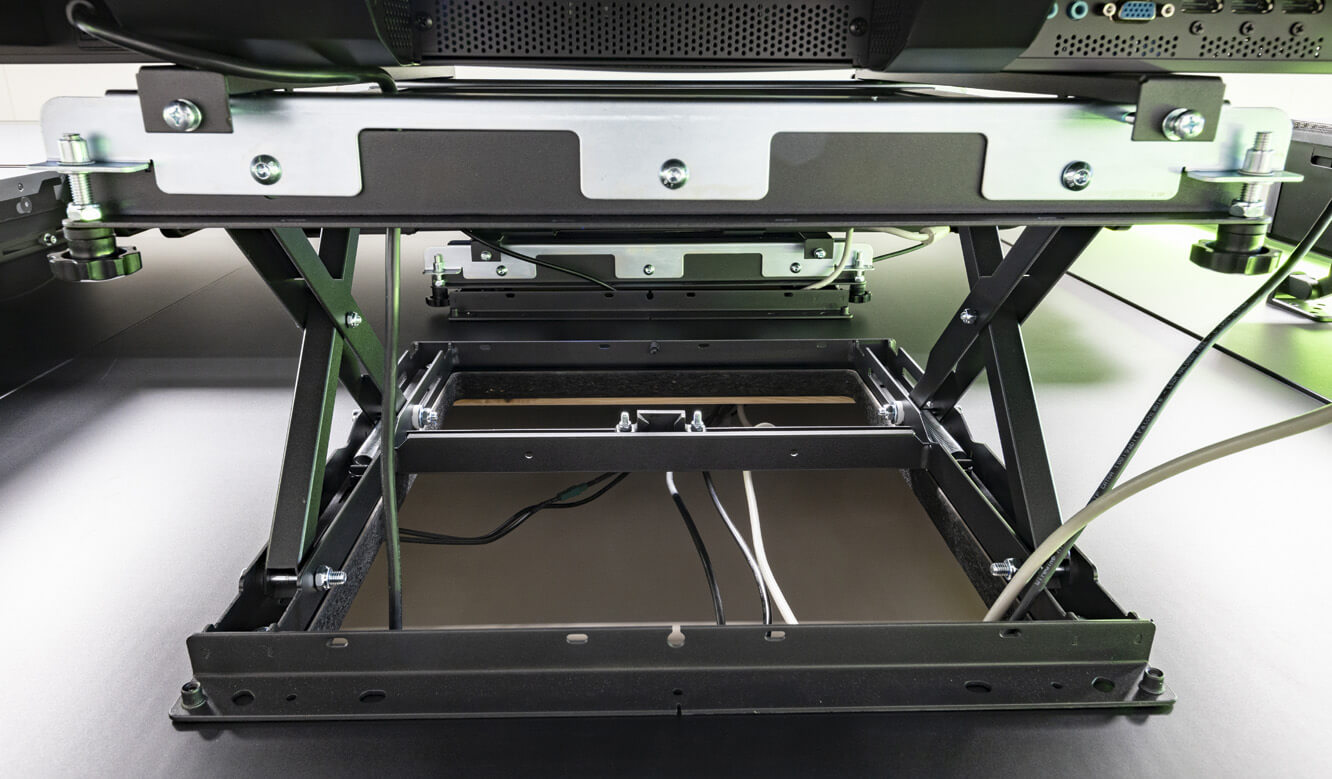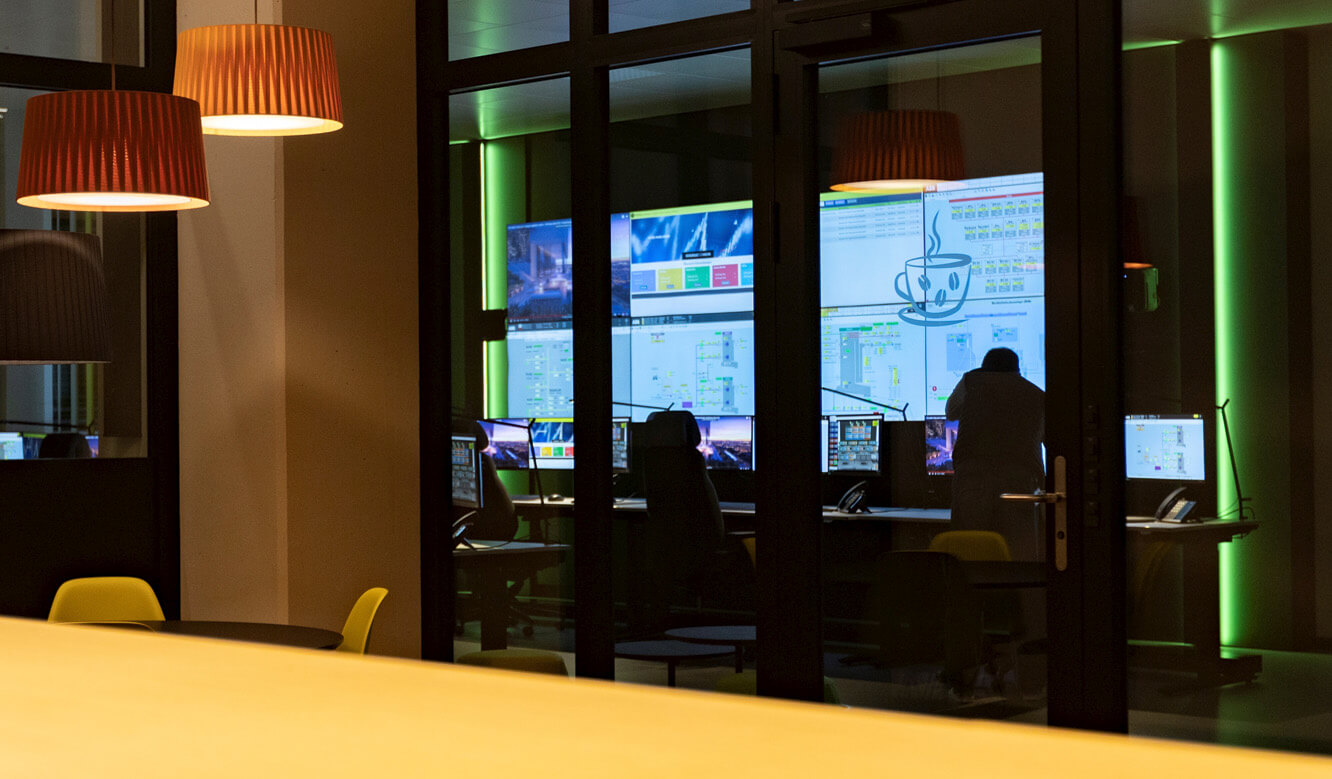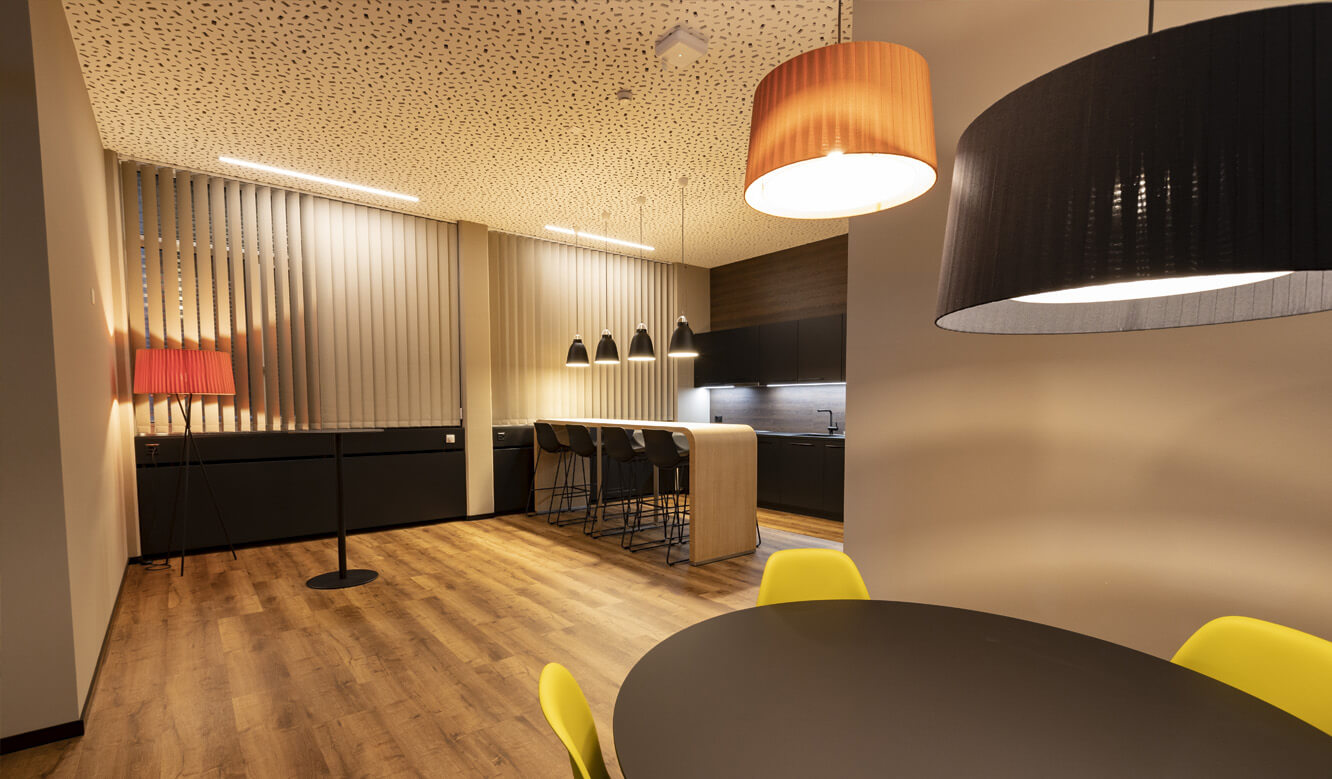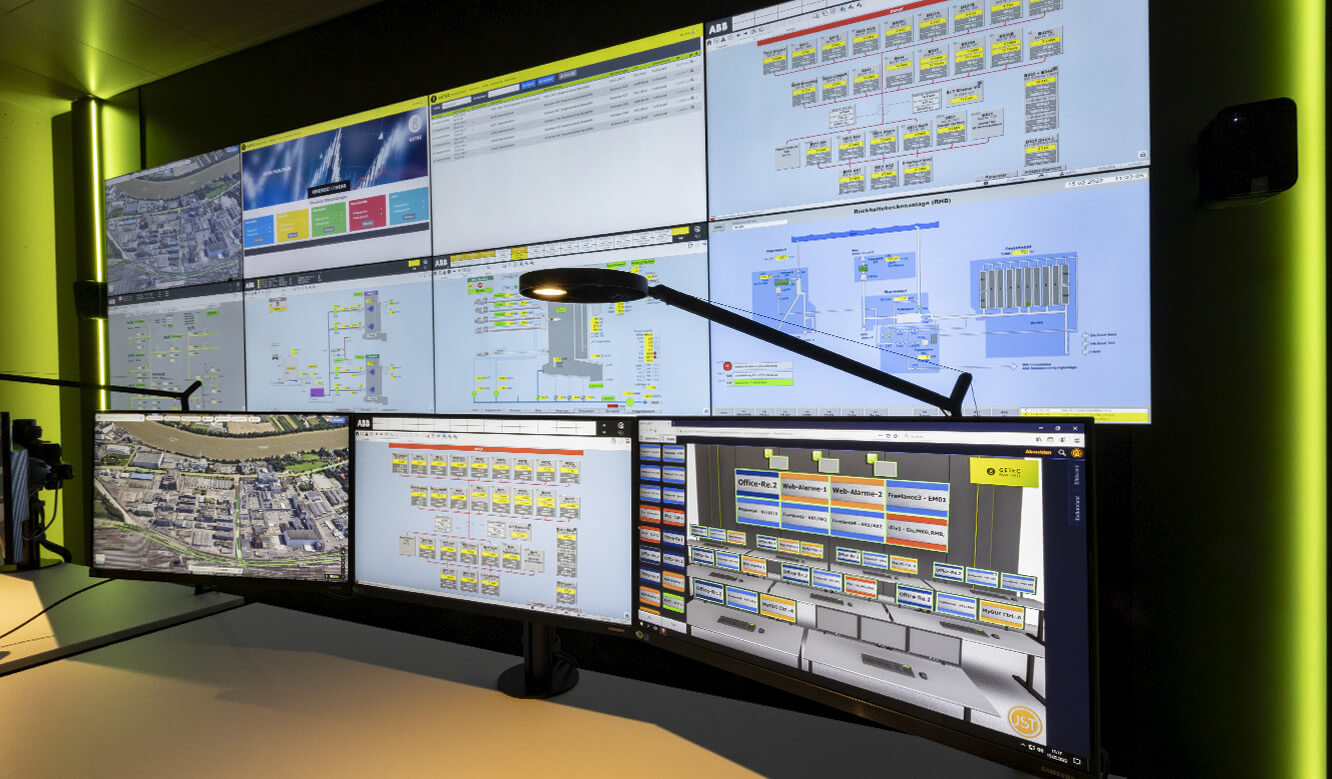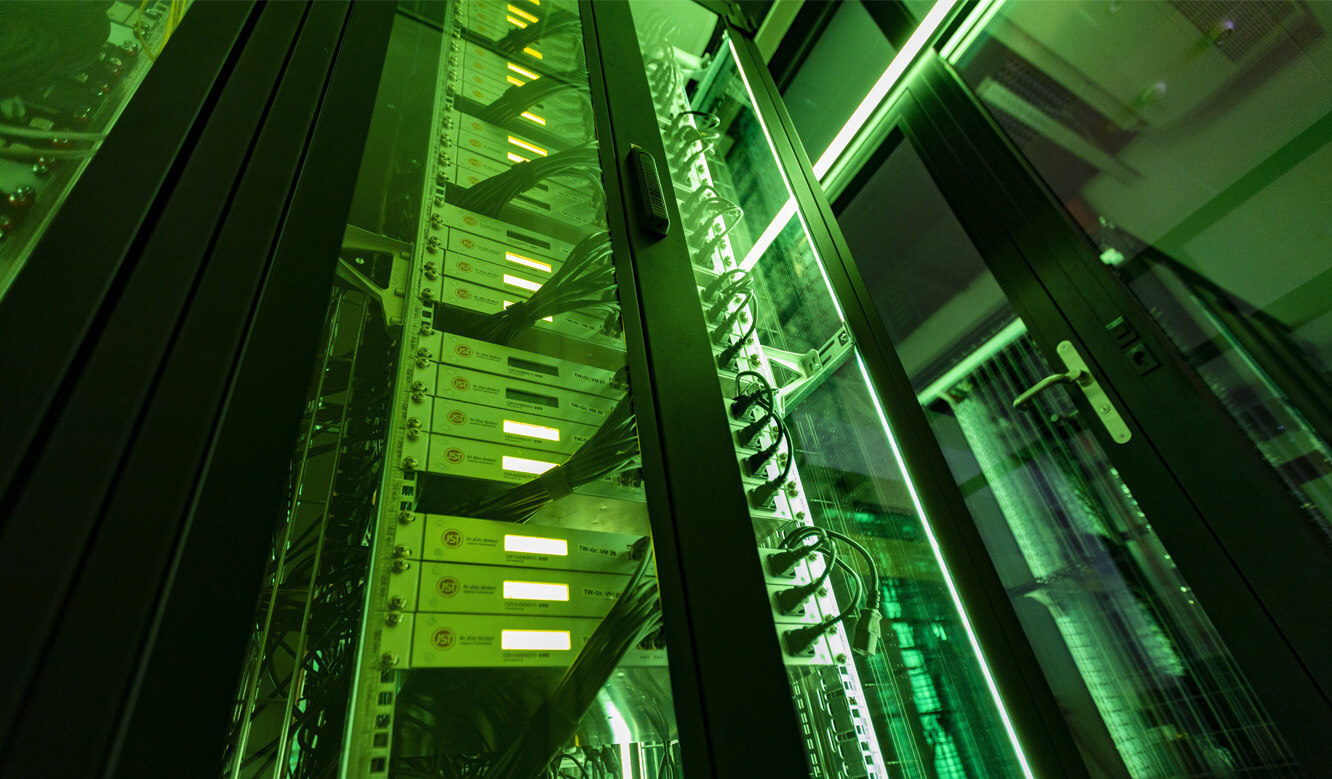 Photo 1 | JST control room concept: Maximum flexibility and high availability are among the essential requirements taken into account when setting up the Smart Control Center in the industrial park near Basel. Against the background of climate-friendly and smart energy solutions, the future tasks of the central control room will also include process control for the production and use of green hydrogen.
Photo 2 | JST control room control: Operating concepts and process control systems from four control rooms responsible for the infrastructure facilities of the chemical and pharmaceutical industry in Muttenz were combined in the Smart Control Center using MultiConsoling® technology. Performance and scalability were decisive arguments.
Photo 3 | JST DisplaySuit: Large-screen system with 8 x 55-inch UltraSlimLine LC displays, which are particularly well suited for presenting large views across multiple monitors due to their extra-narrow frames - GETEC uses state-of-the-art control room technology in the new Smart Control Center.
Photo 6 | JST control room: Tidy workstations increase concentration - thanks to JST MultiConsoling® technology, each operator now only needs a single mouse/keyboard unit with which he can flexibly call up all systems on the large screen wall or on the monitors at his control room desk.
Photo 7 | JST Videowall: In case of revision, individual displays can be easily pulled forward by gently pressing on the outer edges - the running operation is not disturbed.
Photo 8 | JST QuickOut mounting system: There is a technical compartment behind each large-screen display. So the displays can rest directly on the DisplaySuit panels. The cables are neatly routed to the technology.
Photo 9 | JST control room: View directly from the rest zone into the control room.
Photo 10 | Smooth transition: From the Smart Control Center, employees have access to the rest zone, which offers space for conversation and exchange and thus fulfills another requirement that was implemented with the new Smart Control Center in addition to the technical aspects. Planner Tibor Liptay comments: "Our idea was to deviate from the standard look. We wanted our team to feel comfortable in the control center."
Photo 11 | JST MultiConsoling®: With the graphical MultiConsoling® user interface myGUI® (monitor front right), the consoles of the workstations and the large screen wall are shown as an interactive "control room image". All required sources are mapped on the side and can be dragged by the operator via customizable icons to any screen at the workstation or large screen wall simply by mouse click and operated in real time.
Photo 12 | JST technology: The technical concept implemented in the Smart Control Center convinces Reno Schröder (technical project manager): "Remote connections via virtual interfaces allow us to check the current status of the systems at any time."
Photo 13 | JST MultiConsoling®: Maximum fail-safety is of utmost importance for GETEC at the Muttenz Industrial Park site. Thus, the topic of "redundancy" is consistently in focus. As expert Reno Schröder says: "Availability must not depend on a technical eye of a needle."
High-performing and scalable: Swiss energy and contracting hub with new Smart Control Center
On the one hand, a high level of automation for AI-supported energy and contracting solutions, on the other hand, a working environment with a homely ambience – GETEC Switzerland proves that these requirements do not have to be mutually exclusive with a new control center in Muttenz near Basel. On the site of the 50-hectare industrial park, a new Smart Control Center was built in cooperation with the team of experts from Jungmann Systemtechnik (JST), which is one of the most modern control rooms in Switzerland.
Energy generation, wastewater treatment, solvent regeneration – the tasks of the 350 GETEC employees at the multi-client site near Basel are many and varied. Almost 3,000 people are employed by the chemical and pharmaceutical companies based there. The spectrum ranges from small businesses to international corporations. They all have one thing in common: the desire for economically efficient and sustainable energy solutions.
Four individual control rooms become the Smart Control Center
This is exactly what GETEC is all about: accompanying industrial and real estate customers on their way to net zero with smart energy and contracting solutions. While the monitoring and control of processes had previously been distributed across four individual locations on the extensive site in Muttenz, those responsible had a clear goal in mind. All information from the site should flow together in a central control room. In addition, the Smart Control Center, as a decentralized control center, was also to ensure the monitoring of systems outside the industrial park that GETEC operates in a contracting model.
"Extremely high-performing and very scalable"
Arthur Gebhardt, Head of Area Development & Analytics and also project manager, describes the challenge: "We wanted to link these four historically grown control rooms with their different process control systems and operating concepts; virtually everything under one roof." This is where the JST control room control system MultiConsoling® comes into play. "This solution convinced us technologically. It is not only extremely high-performing, but also very scalable," says Gebhardt, "with it, we can create a system world that exactly fits our growth plans and leaves automation steps open for us in the future."
"Comparable systems could not keep up"
His colleague Reno Schröder, technical project manager, agrees with this argument with regard to the JST operating concept: "We looked around the market. However, comparable systems could not keep up in terms of performance, intuitive interfaces or real-time mouse movements. The operator actually acts as if he had the physical client right in front of him and not the virtual environment of a plant miles away."
MultiConsoling® perfect solution for multi-client site
"The philosophy behind MultiConsoling®, the ease of handling, the possibility to switch back and forth between the individual systems by simple drag & drop – it's all very convincing." The option to "generate user-related instead of system-related workstations" makes MultiConsoling® the perfect solution for merging the former four industrial park control rooms into one efficient Smart Control Center that is optimally prepared for the integration of further control rooms.
Smart Control Center for Swiss multi-client site GETEC
Virtual journey as living experience
The Swiss company representatives from the multi-client site particularly appreciate the support provided by JST consultant Oliver Bender. At the start of the project, the control center expert, together with the client, set out on a journey through the JST control room landscape during a virtual workshop in the control room simulator. Reno Schröder: "We were guided completely through this world, learned about interesting solutions, and our specific questions were answered. With various visualization techniques and media, Mr. Bender made the meeting a lively experience." For the technical project manager, one thing is certain: "The experience in the control room simulator was very valuable and saved us the time-consuming trip from Switzerland."
Reference projects of JST (selection)